Glides effortlessly in all directions
Our first omnidirectional soft roller cleaner head has two motorised soft rollers to pick up everything from large debris to fine particles.1 It easily moves forwards, backwards, even sideways.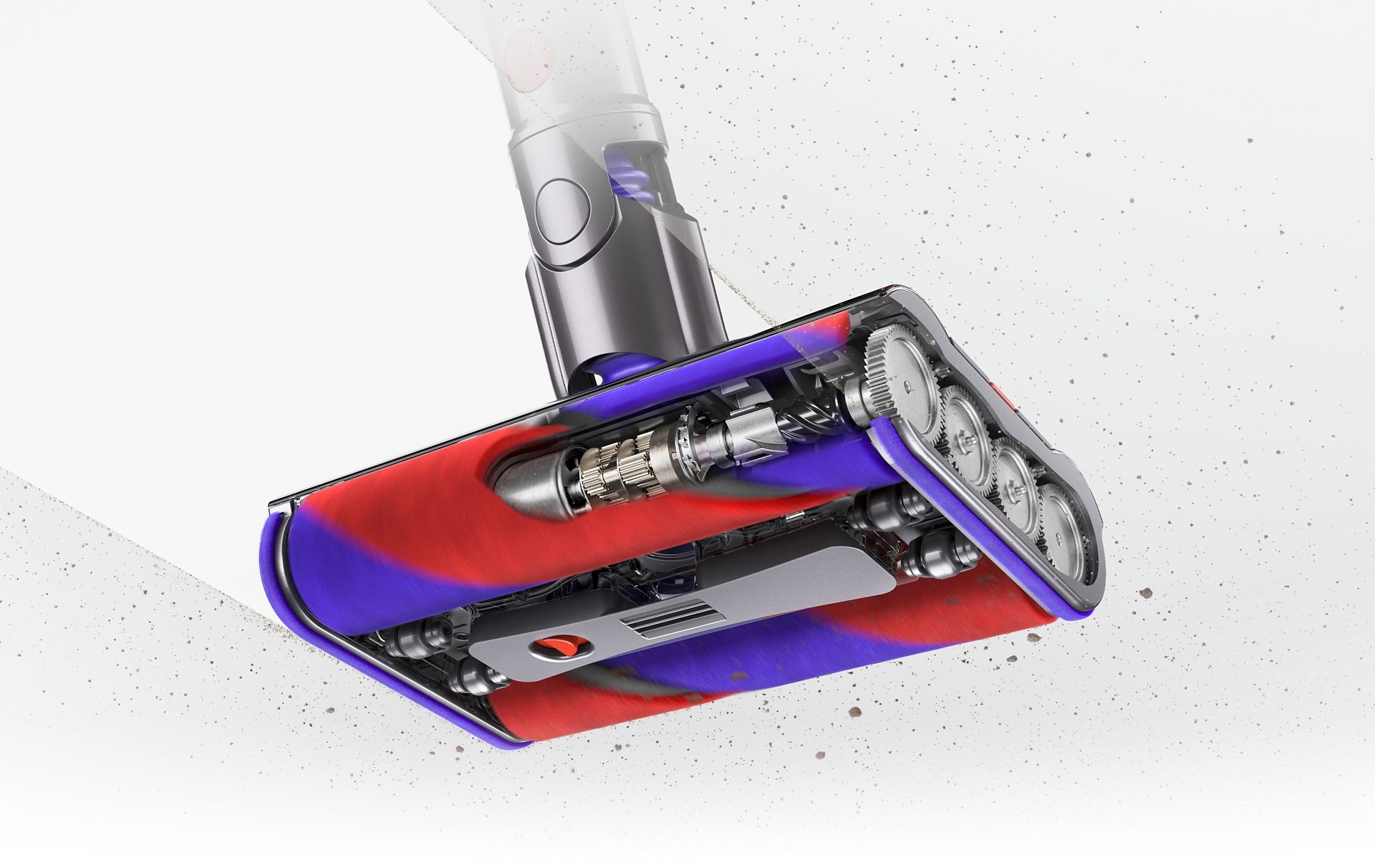 Angled carbon fibre filaments

Anti-static black carbon fibre filaments pick up fine dust from hard floors.

Gliding mechanism

Four 360° castors allow the cleaner head to glide in all directions, making it easy to negotiate obstacles and clean in tight spaces.

Motorised brush bar

The motor is integrated into the brush bar, allowing uninterrupted cleaning right to the edge of the room.
Floats and manoeuvres around obstacles
The articulating neck and four stabilising castors make it effortless to manoeuvre the Dyson Omni-glide™ vacuum around obstacles.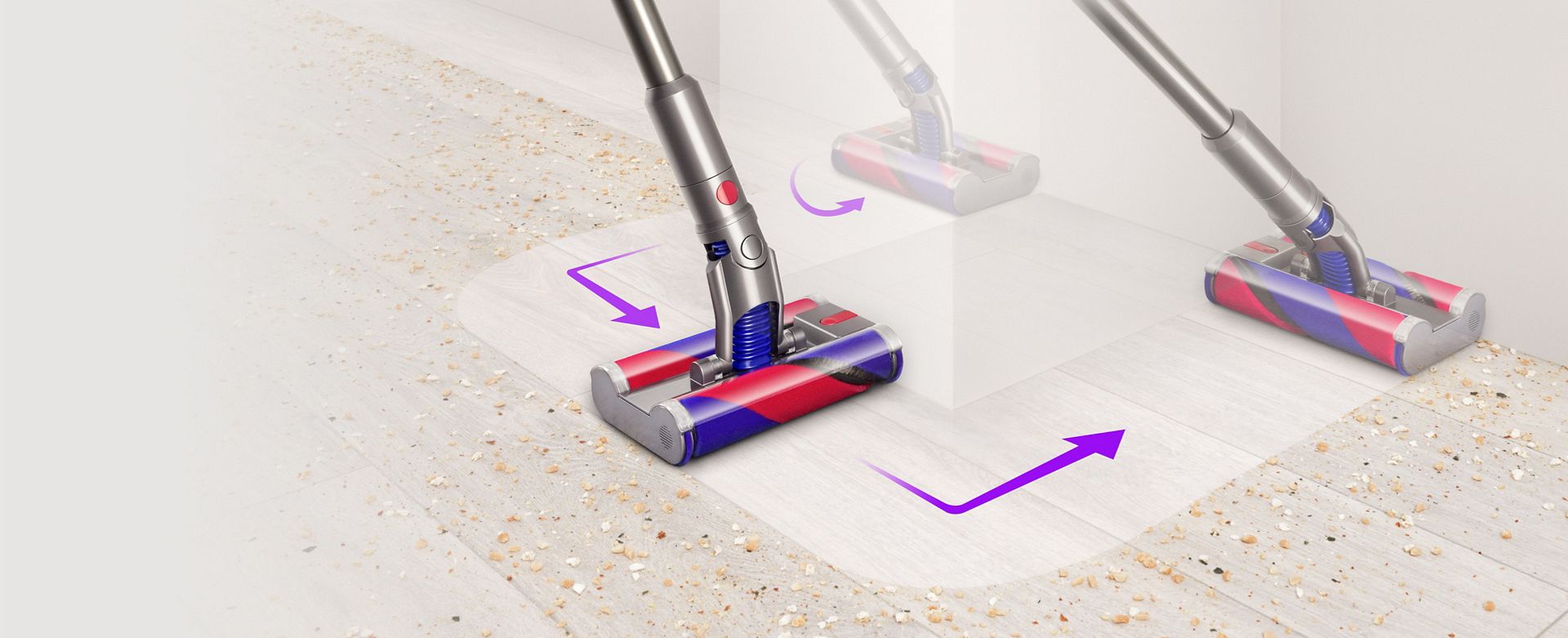 Symmetrical pick up

Powered by a single motor with a double epicyclic gear box, the brush bars spin at the same speed for pick up in both directions.

Sideways cleaning

Twisting the handle rotates the cleaner head 90° so you can clean sideways, too.

Tight spaces

Narrow cleaner head, engineered to clean hard-to-reach spaces as small as 20.7cm.
Engineered with powerful Dyson technology
Dyson's core vacuum technologies, combined to create a powerful, compact and highly-manoeuvrable cordless vacuum.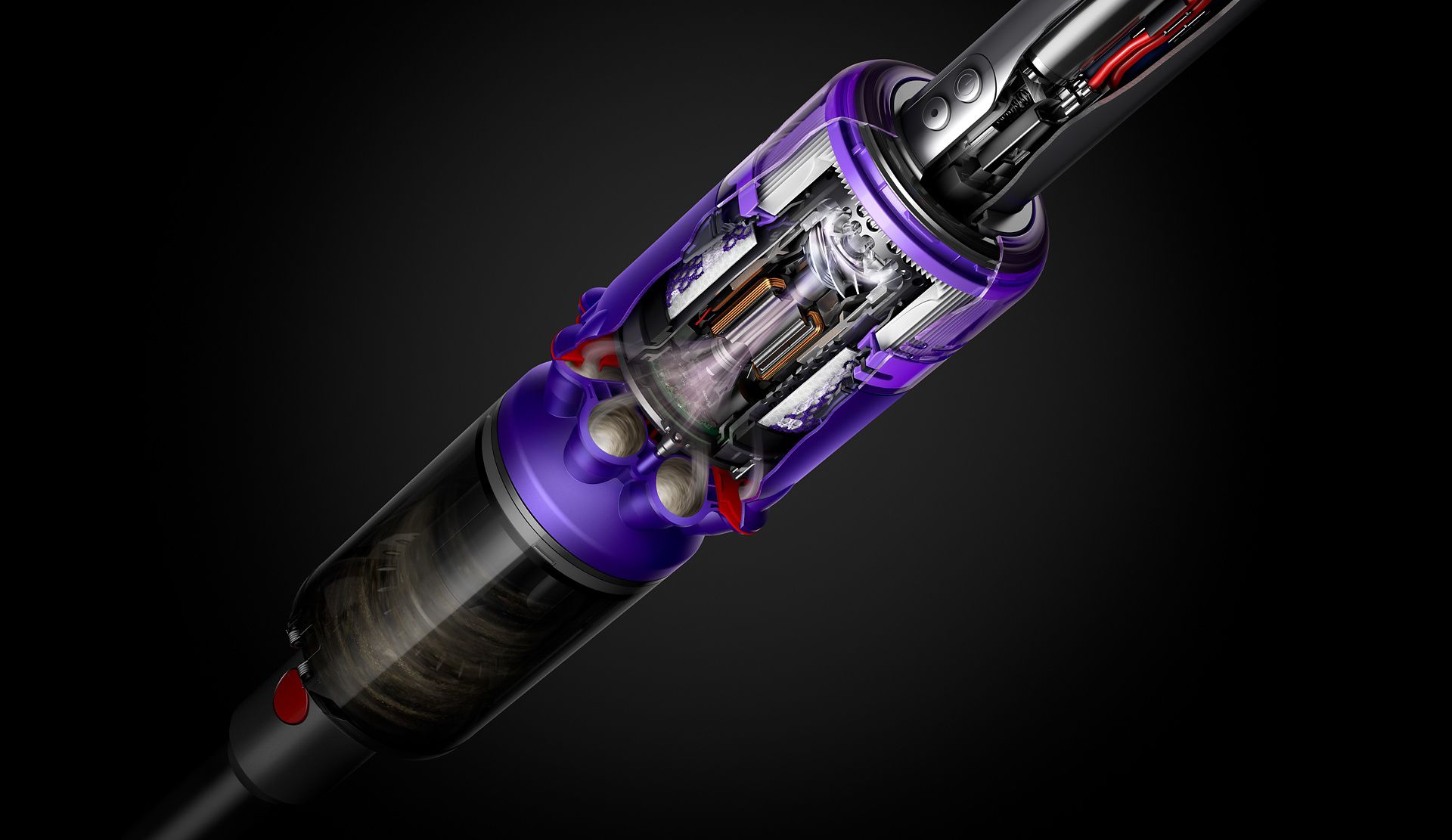 Dyson Hyperdymium™ motor

Small and light. Spins at up to 105,000rpm to create powerful suction on hard floors.

Compact, powerful cyclones

Eight cyclones generate forces of 98,000g to remove microscopic dust from the airflow.

Push-button operation

With power and mode selection buttons instead of a trigger, you can swap hands easily while cleaning around obstacles.
Advanced whole-machine filtration
The Dyson Omni-glide™ vacuum has five stages of filtration with ePTFE porous membranes that help trap 99.97% of particles down to 0.3 microns.2

Reaches further under furniture
An articulating neck allows the machine to lay flat3 on the floor, so it's easy to clean under low furniture.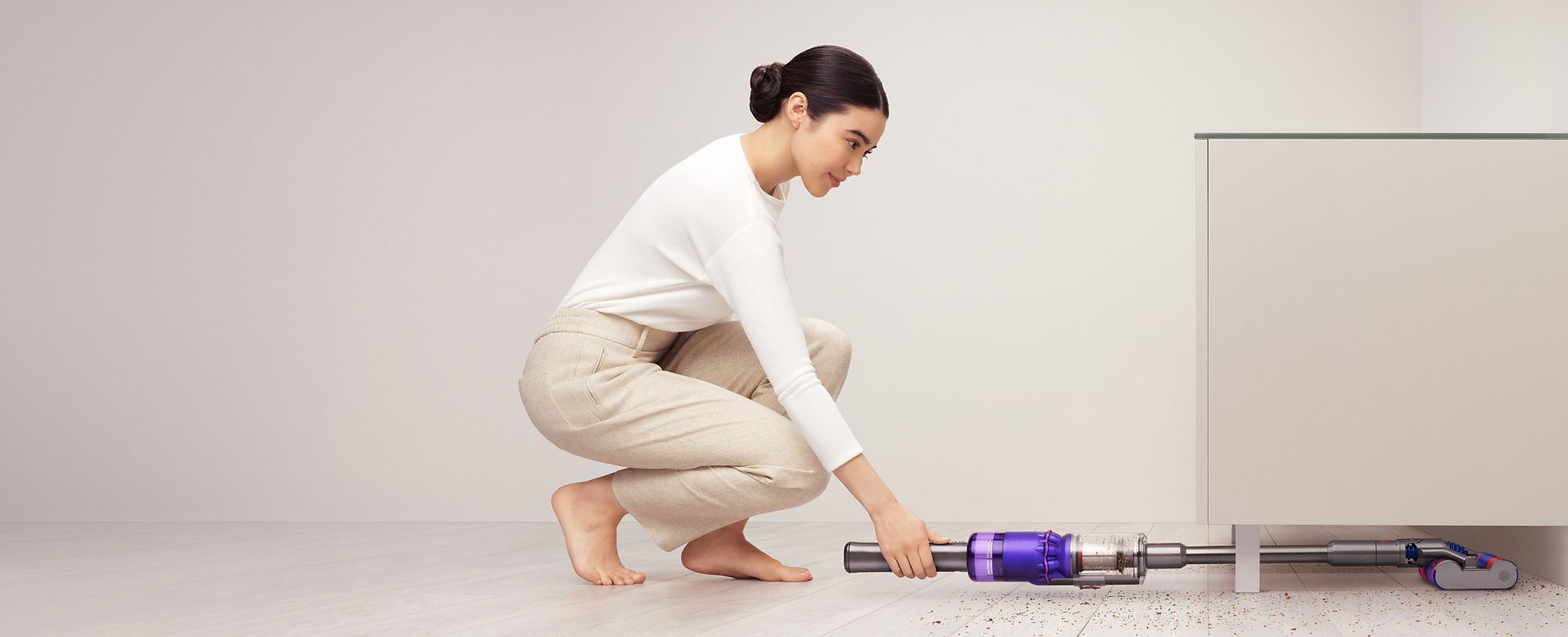 Transforms to a handheld
Quickly changes from a stick to a handheld vacuum cleaner and back again. For speedy spot cleans or versatile home cleaning.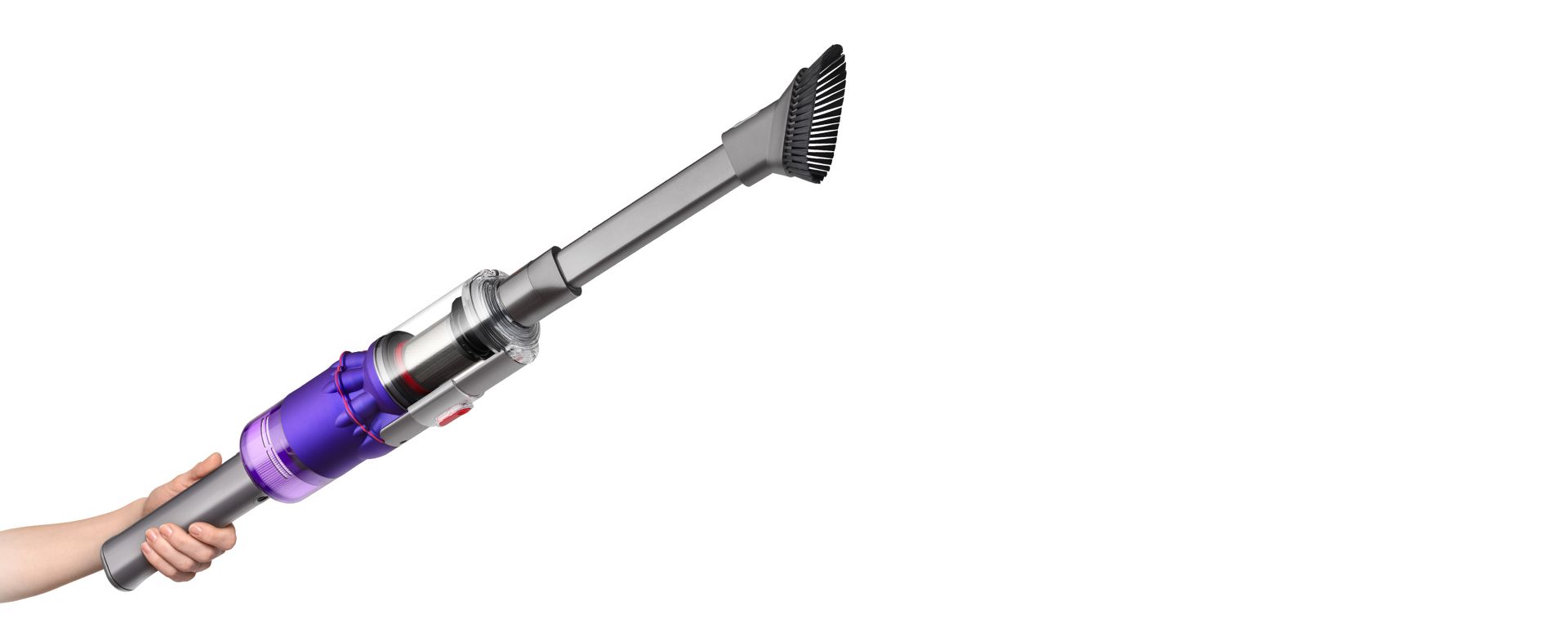 Spot cleaning

Powerful suction for capturing dirt all around your home.

Reaches up high

Lightweight, for easy cleaning in high places.

Car cleaning

Slimline format, ideal for small spaces such as cars and furniture.
Additional features
Easy, hygienic emptying

The straight, slim bin has a hygienic ejection mechanism with a rotary catch, to drive out dust in one smooth action.

Stores and charges

The Dyson Omni-glide™ vacuum drops into the wall-mounted charging dock, ready for your next clean.

Click-in battery

Four lithium-ion cells deliver up to 20 minutes4 of fade-free power. Click-in battery capability doubles your run time for longer cleans.5
Frequently asked questions
The soft roller cleaner head is engineered for hard floors only. For cleaning carpets or soft floor coverings, you can use the Mini motorised tool.
We recommend you clean your filter around once a month, but this may be more frequent if you use your machine heavily. After cleaning your filter, always leave it to dry for at least 24 hours. Ensure it's completely dry before refitting on your machine. We strongly recommend following the cleaning instructions and cleaning by hand. The filter is not suitable for dishwasher use.
A full charge takes up to 3.5 hours.
We recommend fully charging a spare battery soon after purchase, and alternating batteries regularly to prolong battery health.
Your battery has been designed to be left on charge, so it's fine to leave it plugged in after charging.
Your machine works independently and doesn't connect to the Dyson Link app.
---
Compare Dyson cord-free stick vacuums
See our vacuums side by side, and find the right Dyson for you.
1. Tested to IEC 62885 clause 5.1 for hard floors in Max mode.
2. Filtration tested against ASTM F1977-04, tested in Max mode by independent third party laboratories in 2020.
3. Lie flat backwards only.
4. Applies in Eco mode when using a non-motorised tool. Up to 18 minute runtime in Eco mode for full product with motorised tool. Run time may vary depending on usage and floor type.
5. Additional battery and charger, available to buy separately on the Dyson website.