Pet groom tool
Suitable for pets with medium and long hair. The Pet groom tool sucks loose hairs directly into the bin – so they don't drop around your home.



Scientific proof of a deep clean3
Detects
Laser detects the particles you can't normally see – so you don't miss anything.1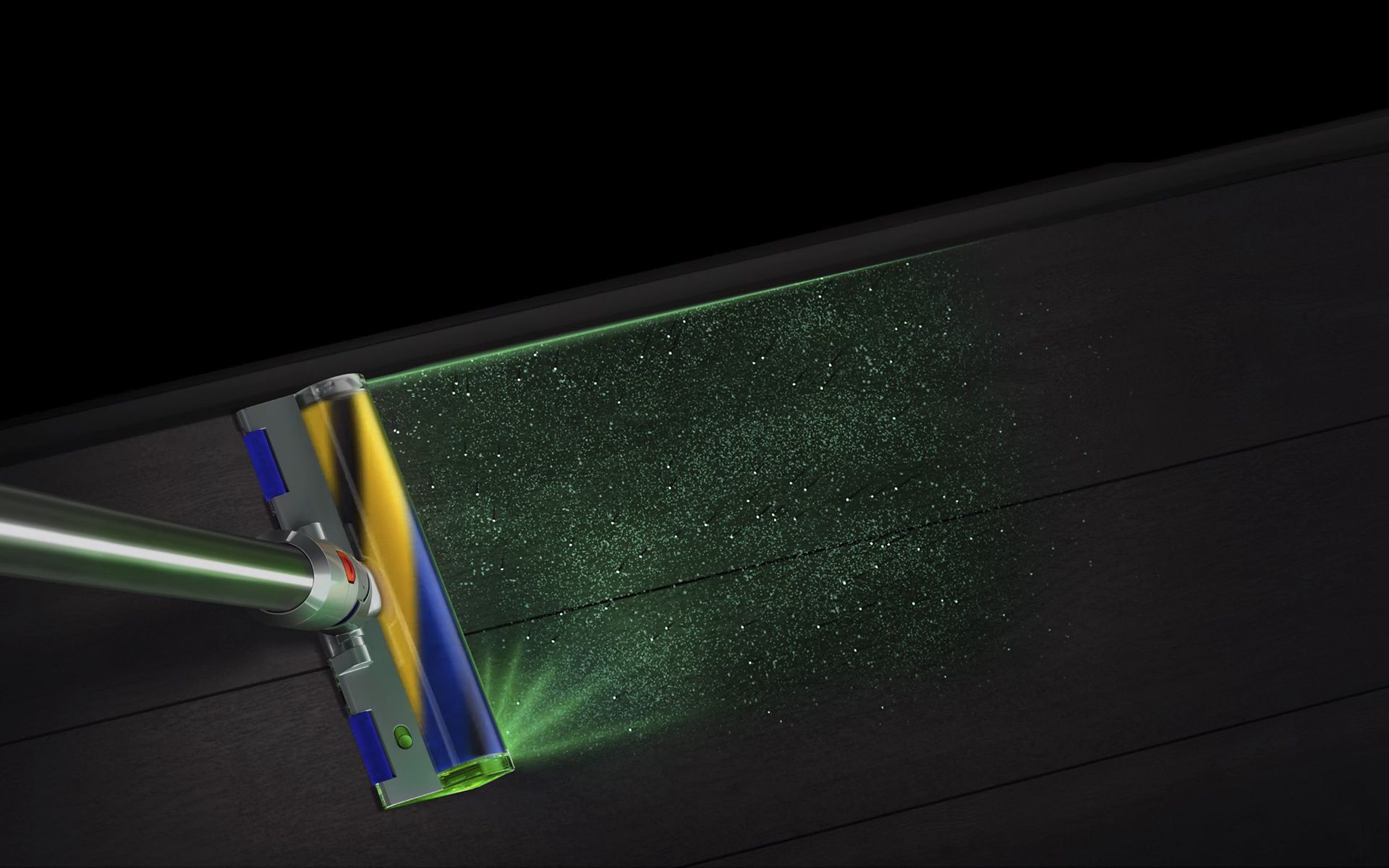 Makes the invisible visible
A precisely-angled laser makes invisible dust visible on hard floors.1
Green laser
The human eye's evolutionary sensitivity to green light means we see it brighter than other colours, enhancing contrast and making hidden dust clearly visible.1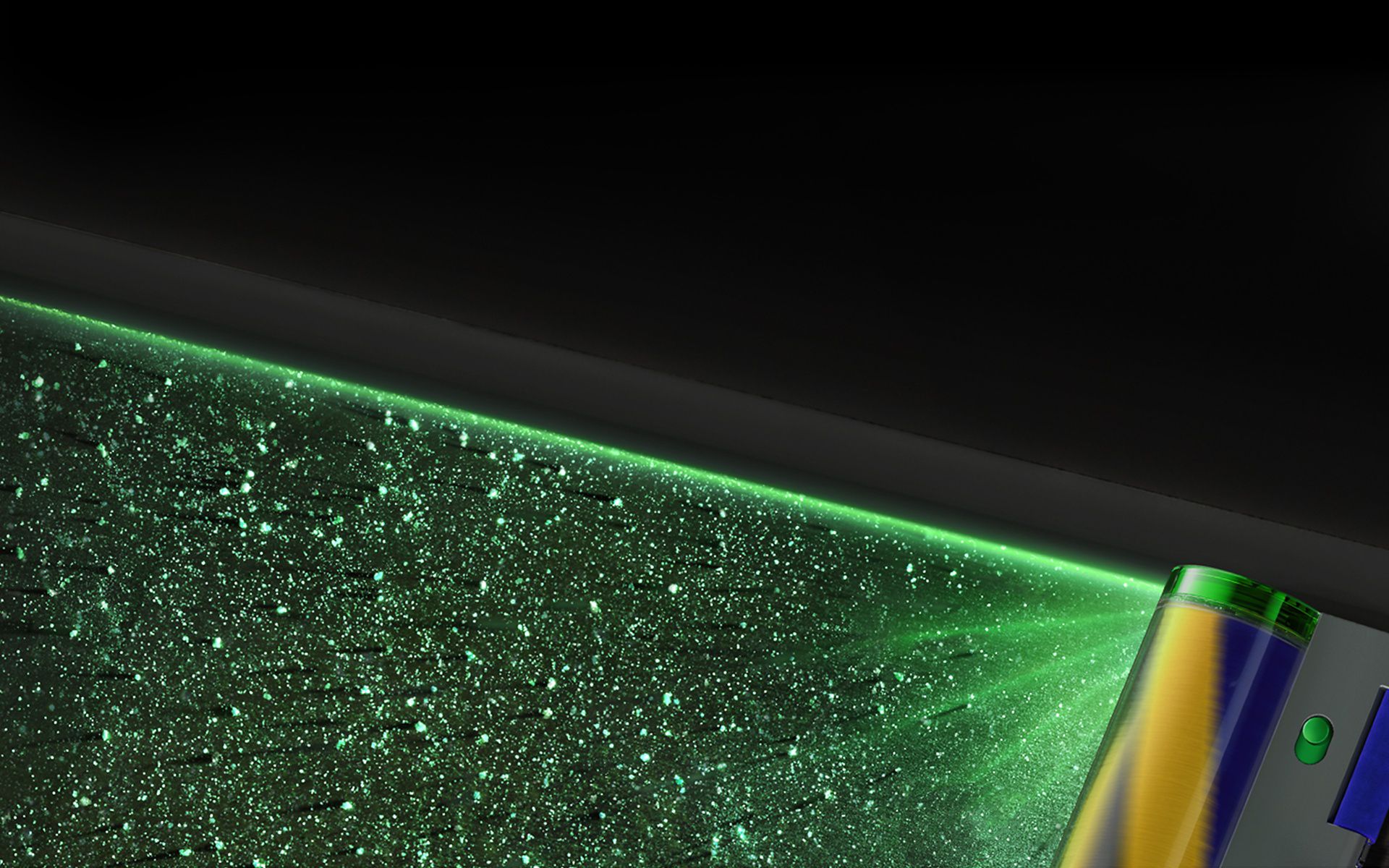 Counts
A piezo sensor continuously sizes and counts dust particles.3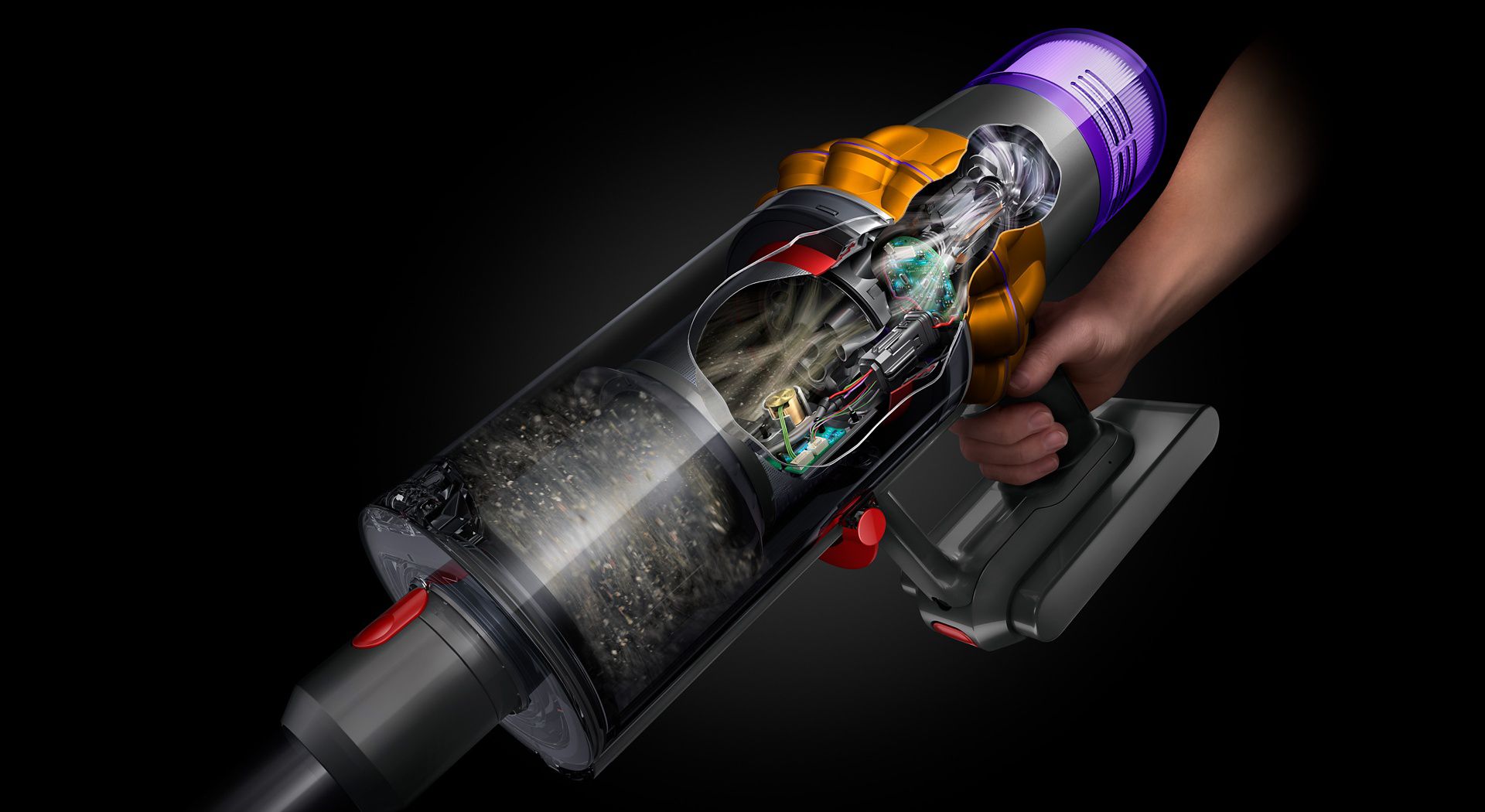 Measures microscopic dust particles
A piezo sensor counts dust particles passing through the inlet 15,000 times a second.

The sensor converts the acoustic vibrations of picked-up particles into an electrical signal, allowing the vacuum to intelligently react when more dust is identified.3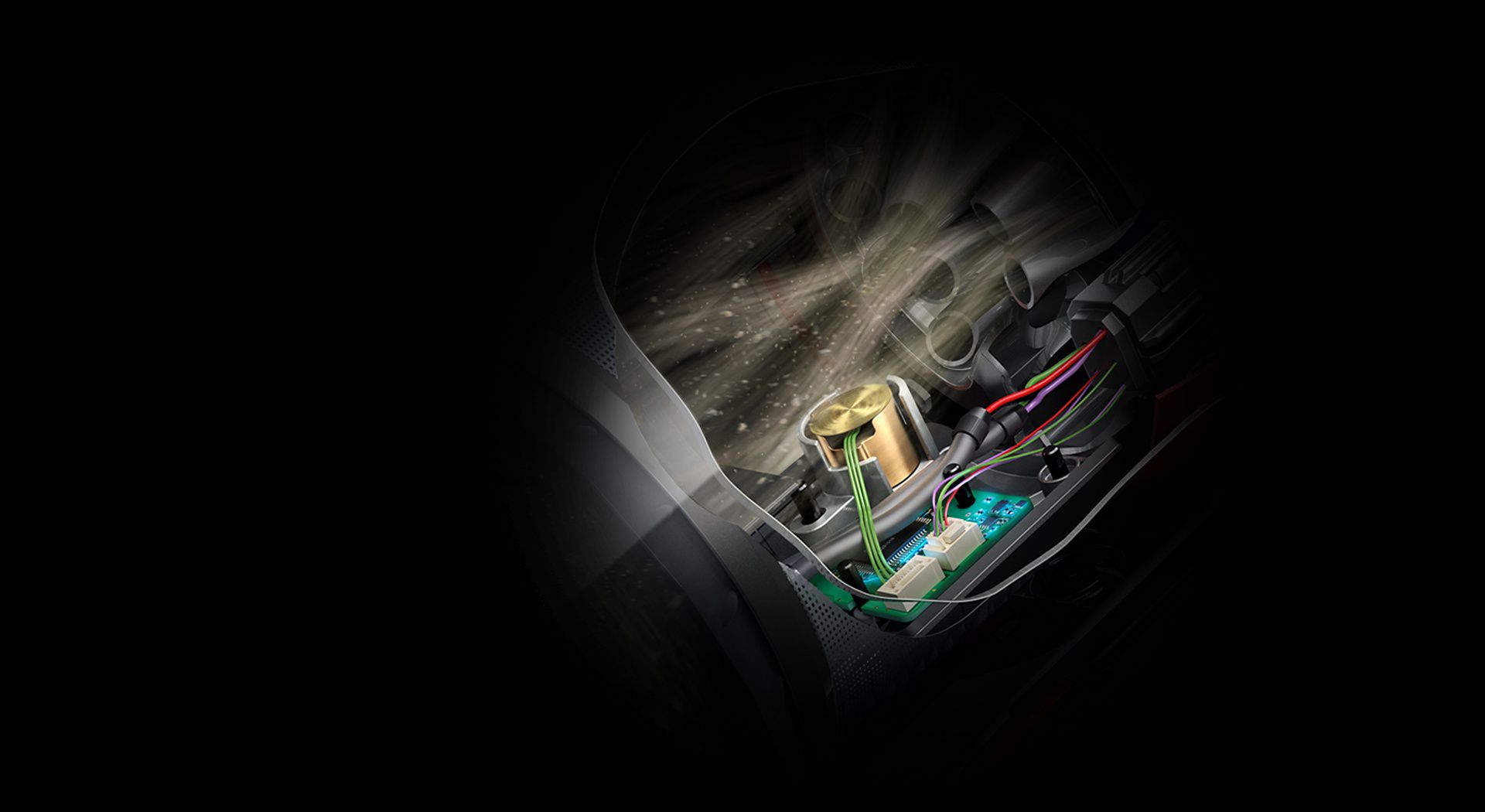 Reacts
Intelligently adapts power to dust levels.3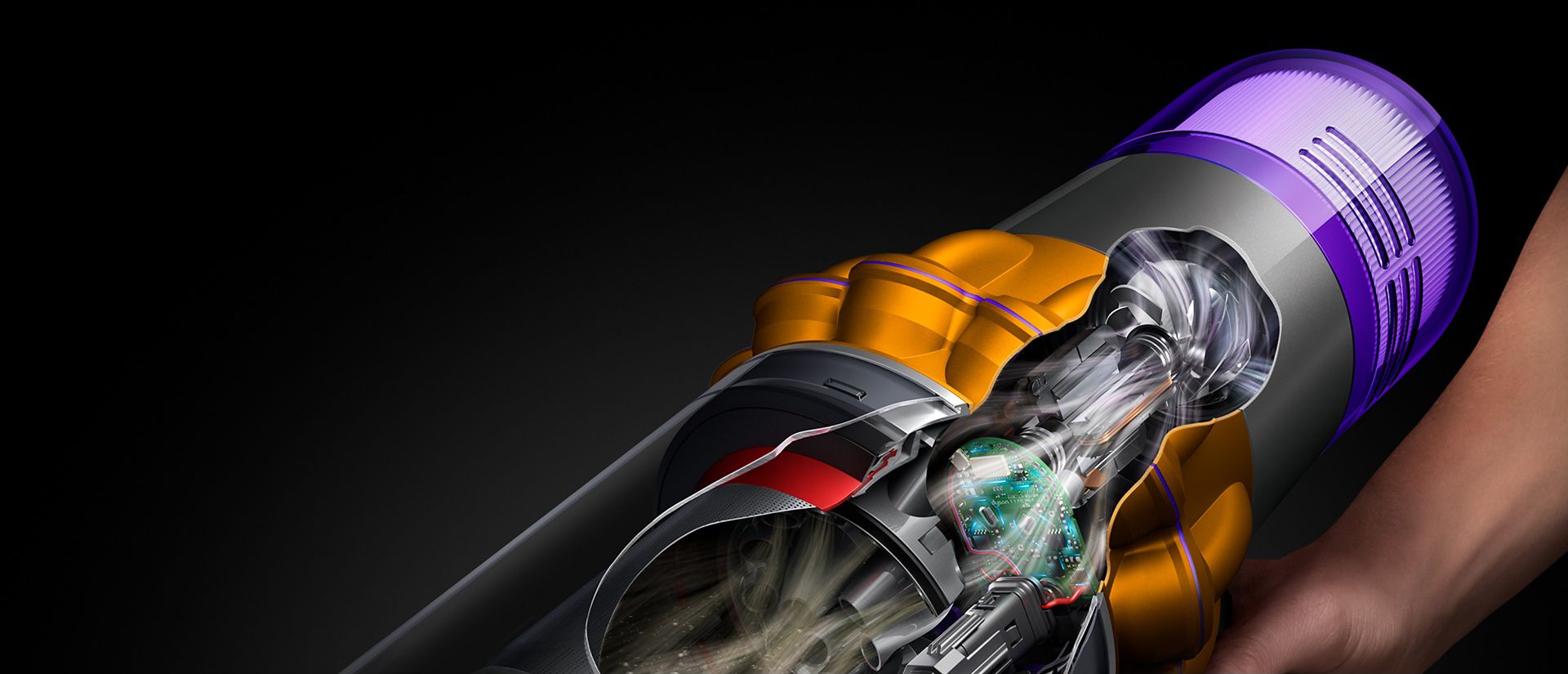 Powerful Dyson suction when you need it
A powerful Dyson Hyperdymium™ motor increases suction power when higher dust volumes are identified.4
Scientific proof of a deep clean
Our latest technology calculates and categorises sucked-up particles – showing you what's being removed as you clean.3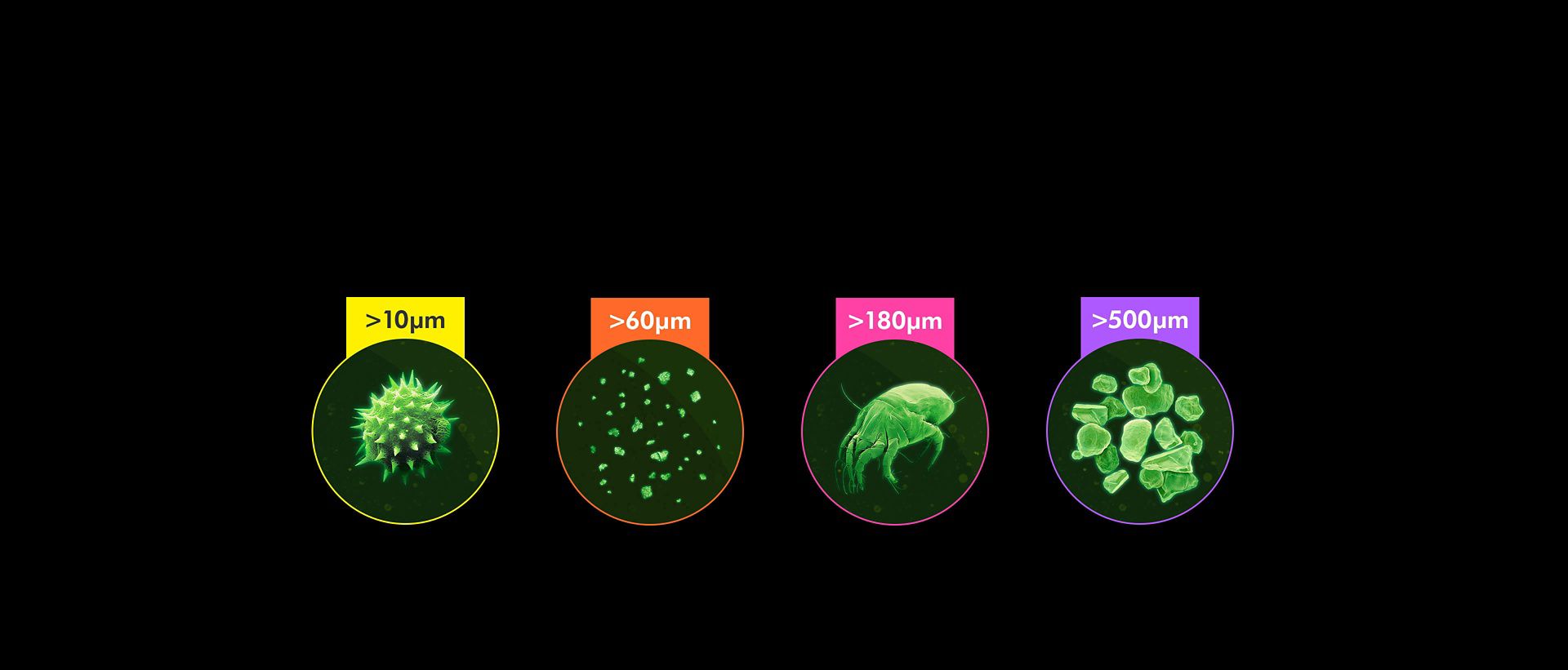 Particles the size of allergens and pollen
Pollen is commonly carried into homes on skin hair, clothes, footwear and pets. Once inside, pollen grains and antigens accumulate in house dust, reaching a peak concentration long after pollination season. With their microscopic size and jagged shape, pet allergens can easily stick to upholstered furniture, bedding and fabrics – and often stay in the home for months as house dust, even after the pet is gone.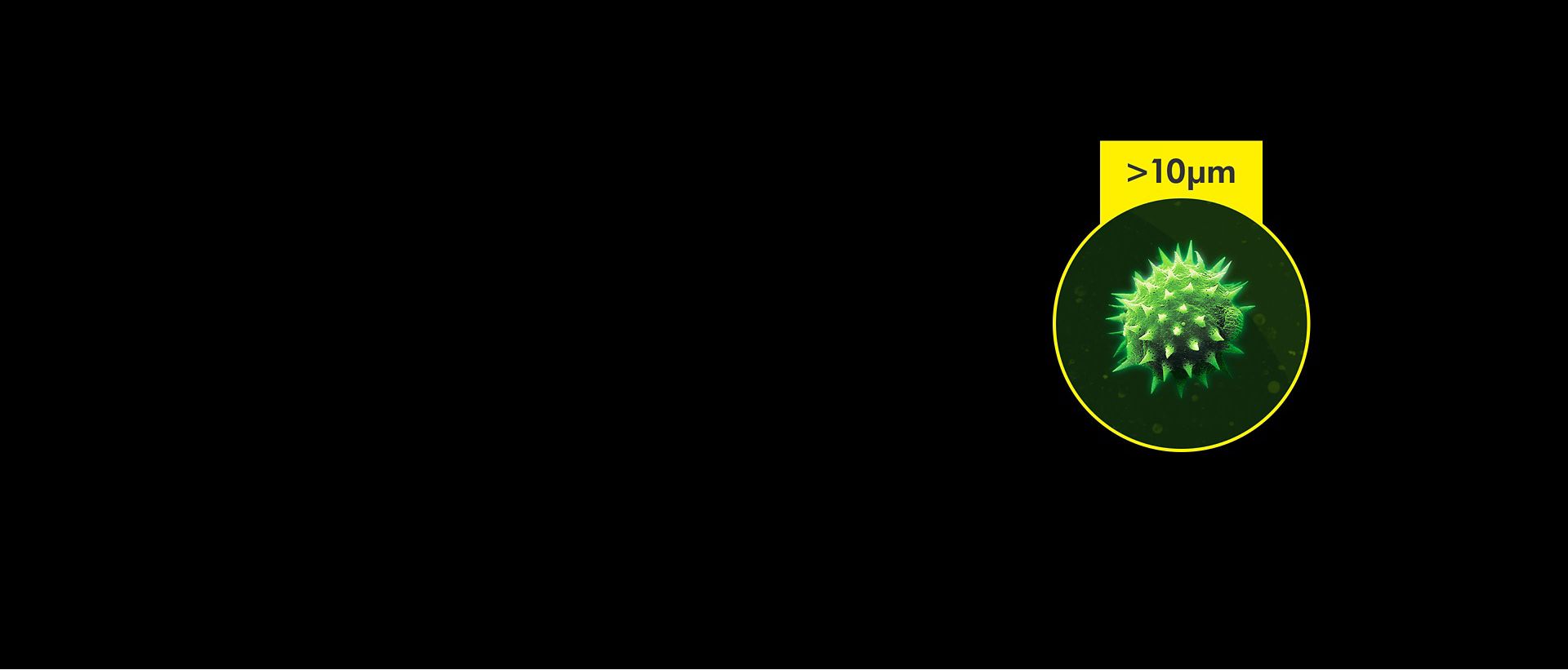 Particles the size of microscopic dust and skin flakes.
Moulds measure up to 100µm and can be found around kitchens, windows, and other damp areas. Their spores can irritate the nose and throat, causing shortness of breath.
Particles the size of dust mites and fine sand.
House dust mites are one of the major indoor triggers for allergies and asthma. Each mite produces about 20 droppings a day, which continue to cause symptoms even after the mite has died.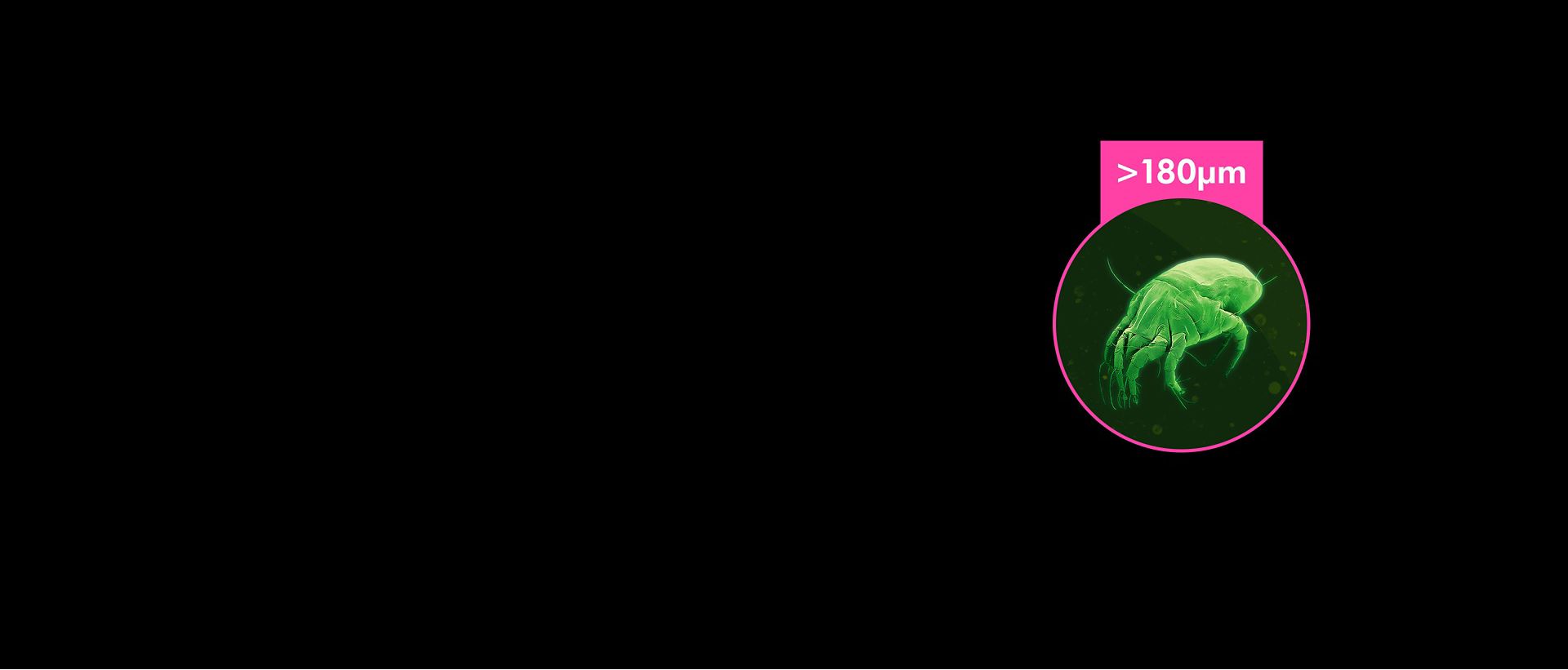 Particles the size of sugar and fleas.
These larger, visible particles are trapped in the bin as soon as they enter the primary cyclone and metal mesh filter – clearing the airflow, so there's no loss of suction.¹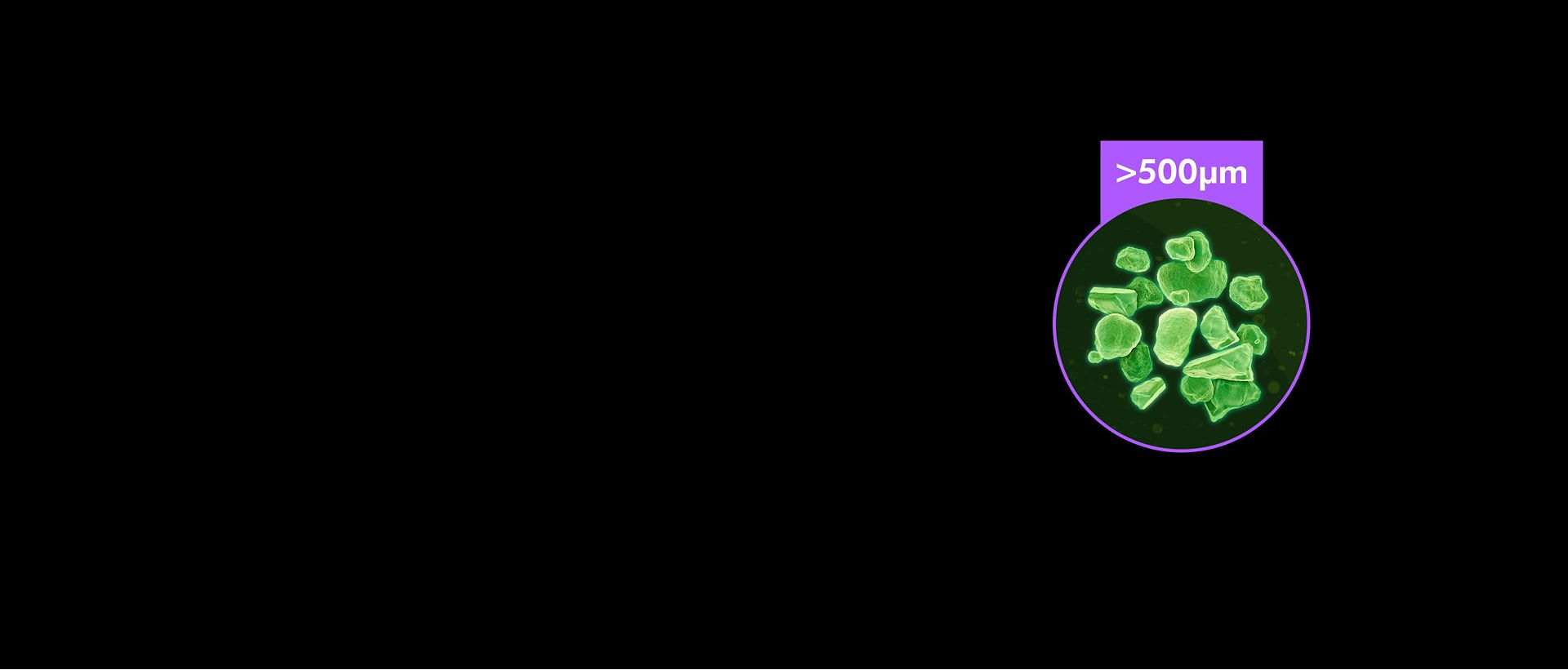 Dyson's most powerful, intelligent cord-free vacuum¹
Up to 60 minutes of powerful, fade-free suction.4

240AW of suction power

A Dyson Hyperdymium™ motor spins up to 125,000rpm, generating 240AW of powerful suction for a deep clean.5

Up to 60 minutes run time³

Advanced seven-cell battery delivers up to 60 minutes of whole-home cleaning. Remove and replace for even longer cleans.


Whole-home deep cleaning
Dyson-engineered accessories for every task.
Anti-tangle comb

De-tangling comb automatically clears hair from the brush bar.

Automatically deep cleans carpets

In Auto mode, Dyson DLS™ technology monitors brush bar resistance 360 times a second, intelligently adapting power across different floor types.

Anti-static carbon fibre filaments

Carbon fibre brush bar filaments remove dust particles from hard floors.

7,815 stiff nylon bristles

Thicker nylon bristles drive deep to remove ground-in dirt from rugs and carpets.
Hair screw tool. Picks up long hair and pet hair. Fast.
Anti-tangle conical brush bar spirals hair off and into the bin. Motor-driven cleaning for smaller spaces.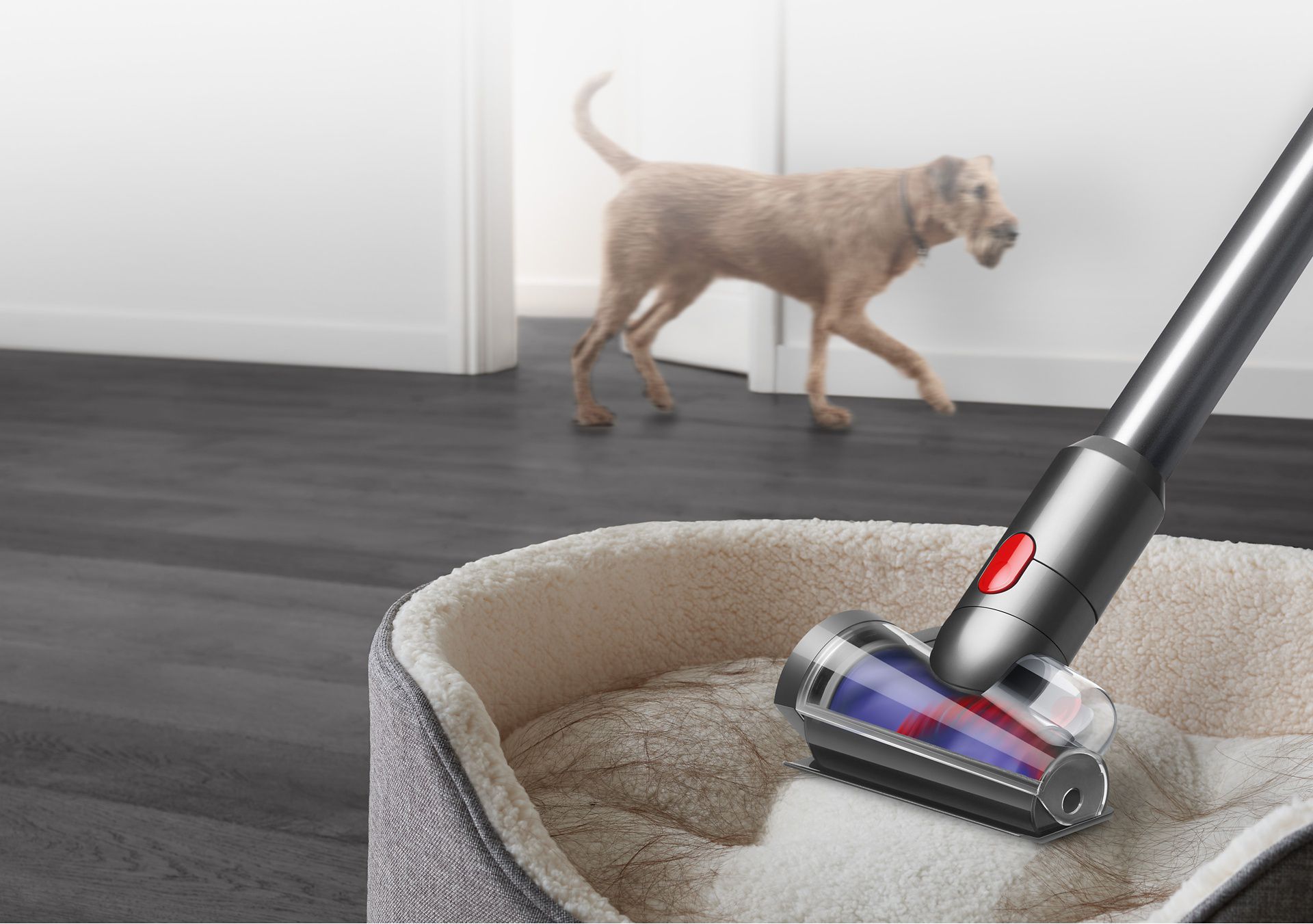 Conical brush bar
Tightening strands migrate to the end of the cantilevered brush bar. Hair is spiralled off into the bin in seconds.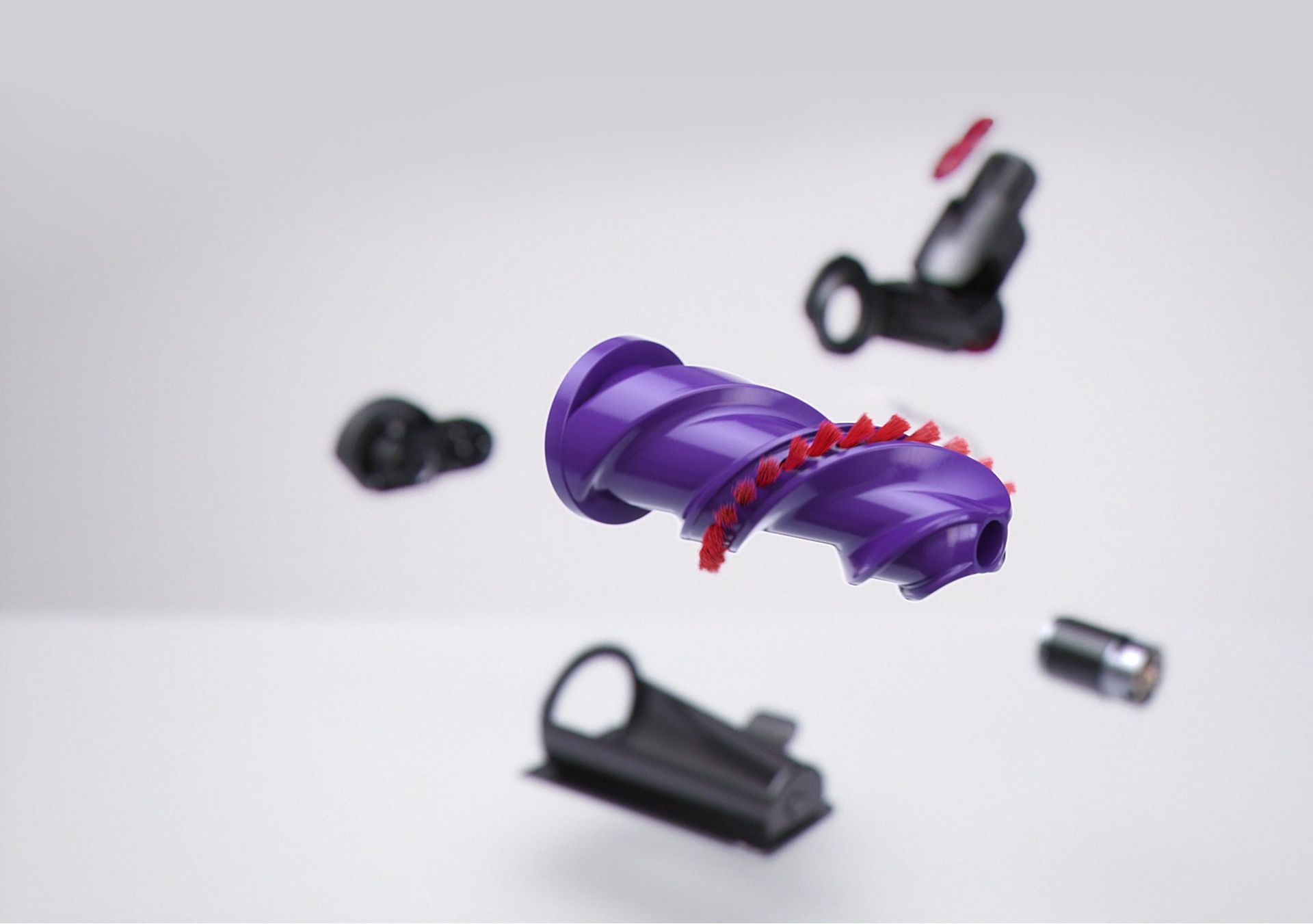 Easy cleaning anywhere, without the cord
Powerful 3-in-1 cleaning
The versatility of Dyson cordless technology makes cleaning your home easier. Powerful cleaning of floors, hard-to-reach places and mattresses.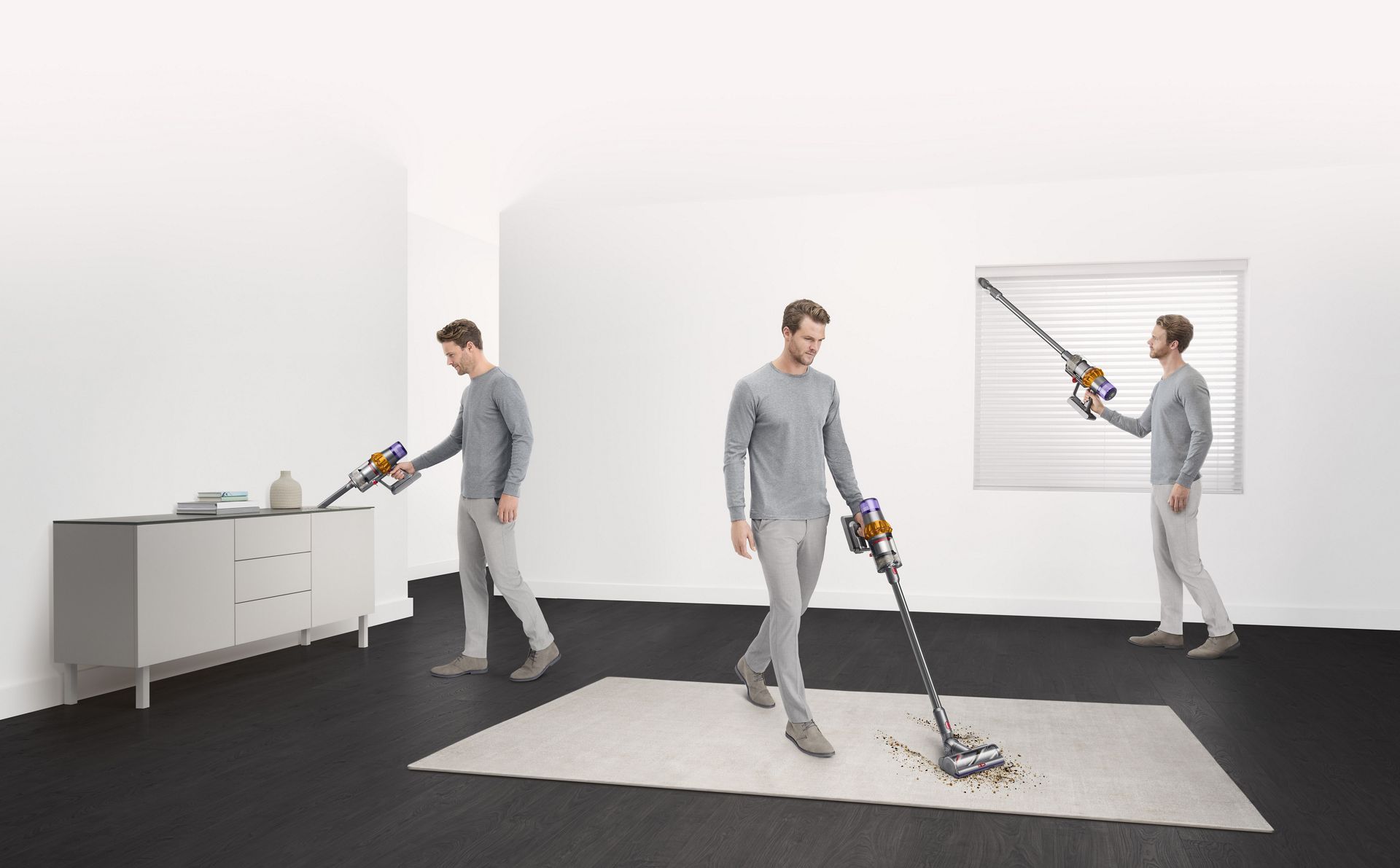 Floors

Motor-driven cleaner head and ergonomic aluminium wand for powerful, comfortable floor cleaning.

Hard-to-reach areas

Converts to a handheld cleaner for all around the home with Dyson-engineered accessories.

Mattresses

Motorised Hair screw tool for handheld cleaning of mattresses, upholstery and stairs.
Expels cleaner air into your home.
Whole-machine advanced filtration
Dyson's fully-sealed system captures dust and seals in 99.99% of microscopic particles as small as 0.3 microns (µm).6

1. Bin Cyclone
Primary separation removes the largest particles. Powerful centrifugal forces separate dust, dirt and hair from the airflow.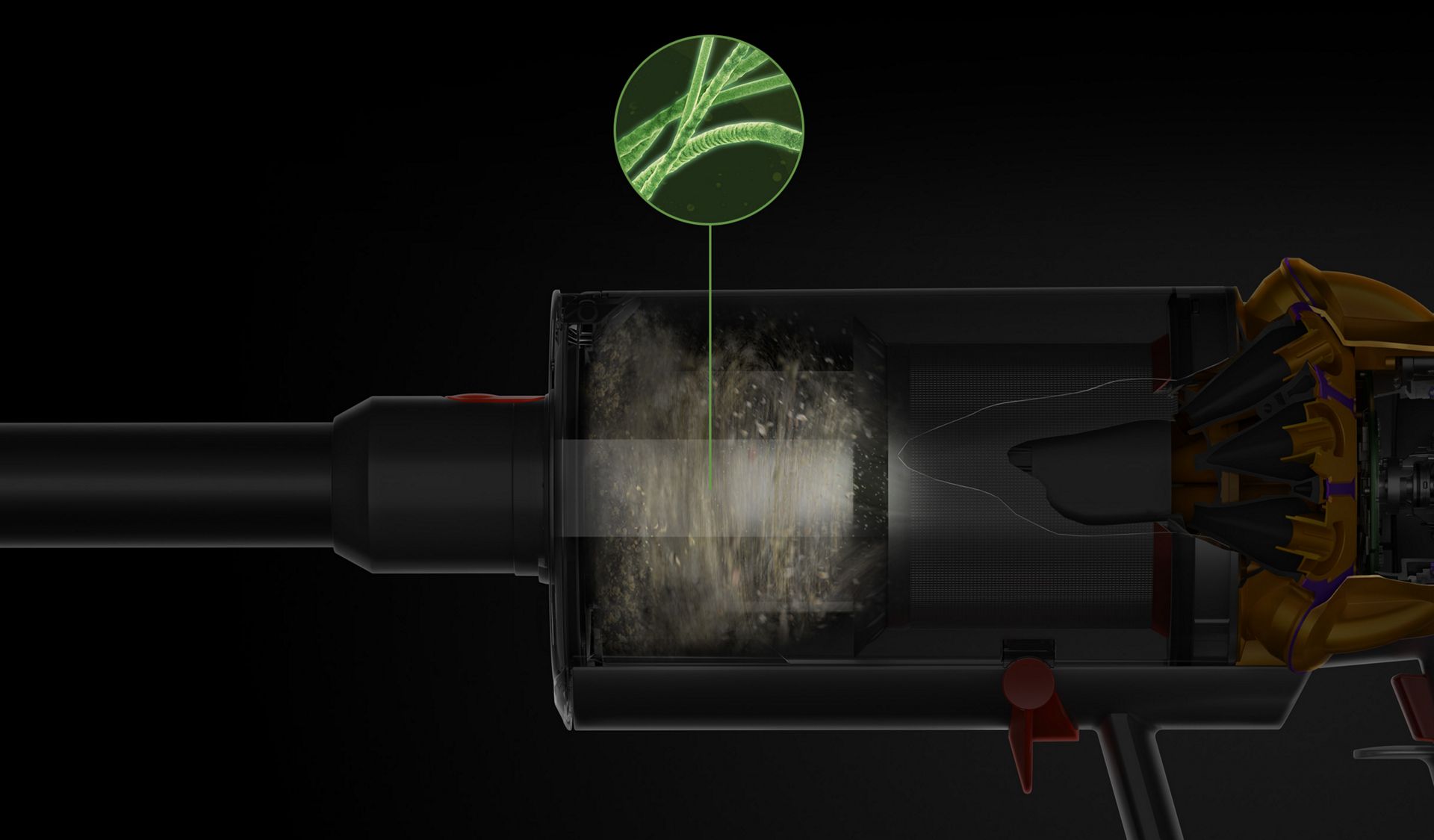 2. Metal mesh
The stainless steel filter has 77,349 round holes, each created using chemical etching. They filter out anything over 250 microns.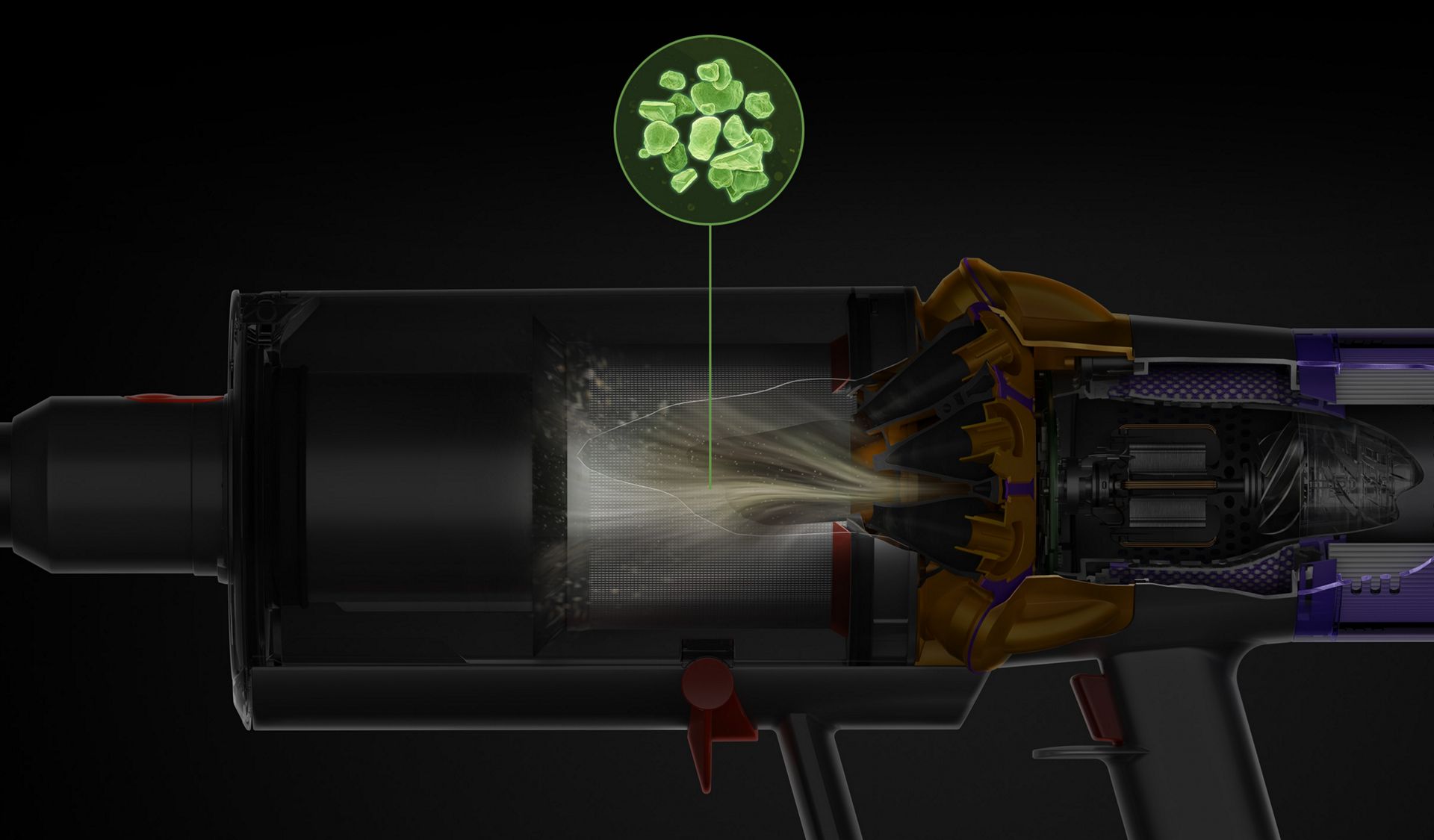 3. Powerful Cyclones
14 scrolled cyclones generate forces of up to 100,000g to remove dust from the airflow – so there's no loss of suction.8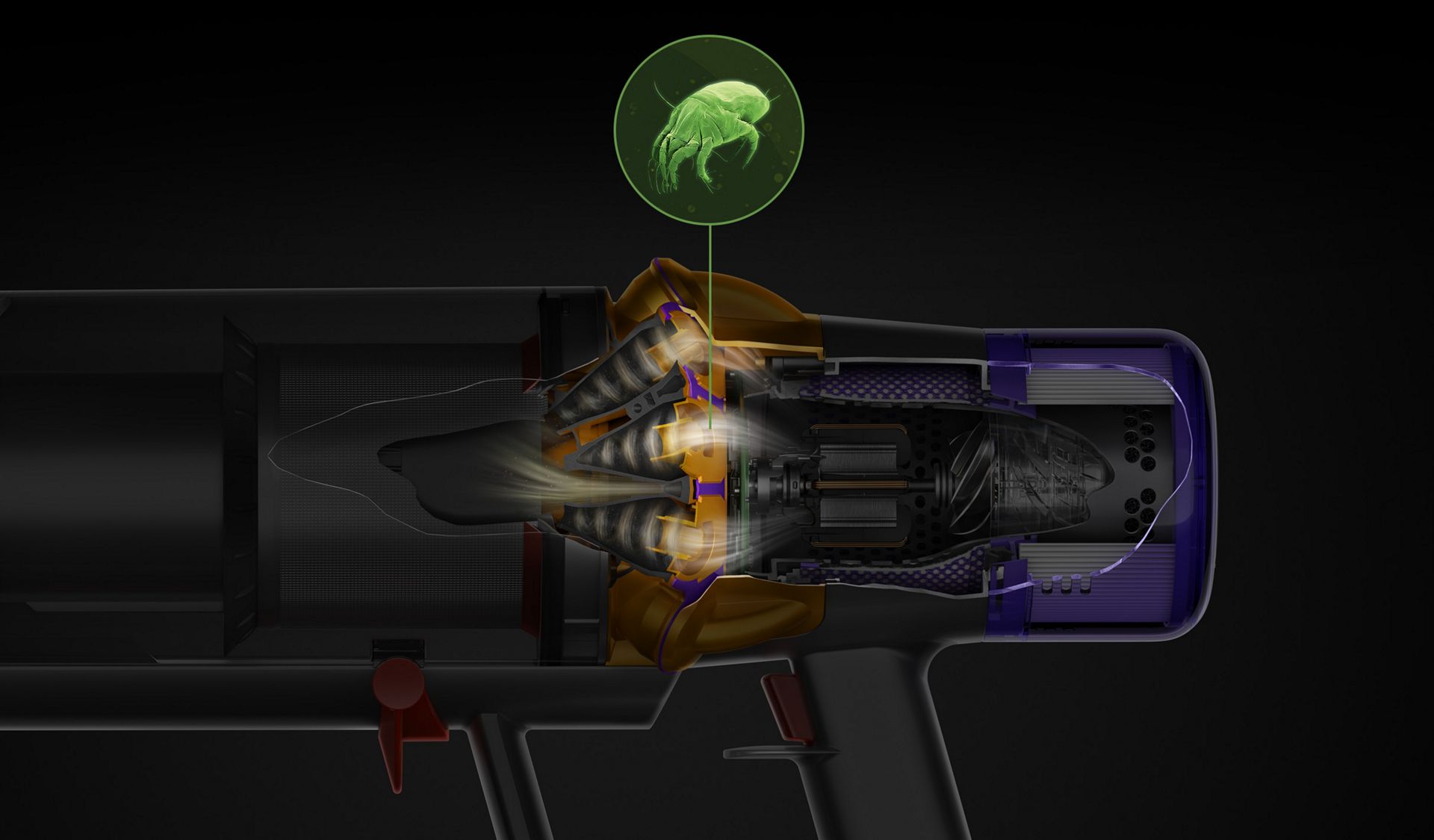 4. Pre-motor filter
Electrostatically charged Technostat® layer attracts smaller particles that would otherwise pass through.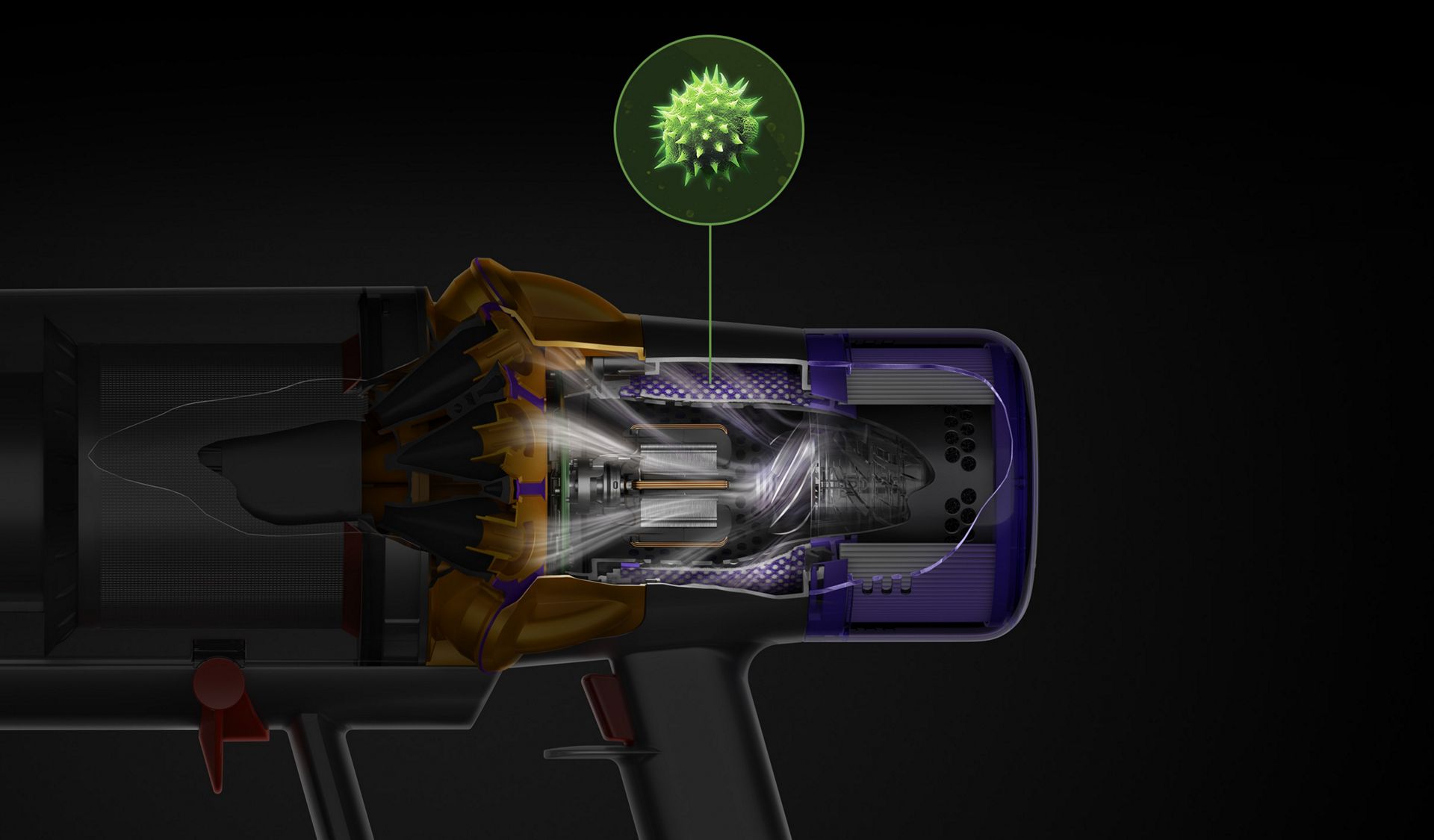 5. Post-motor filter
1.78m of PTFE folded 136 times traps 99.99% of particles down to 0.3 microns, so you don't breathe them in.7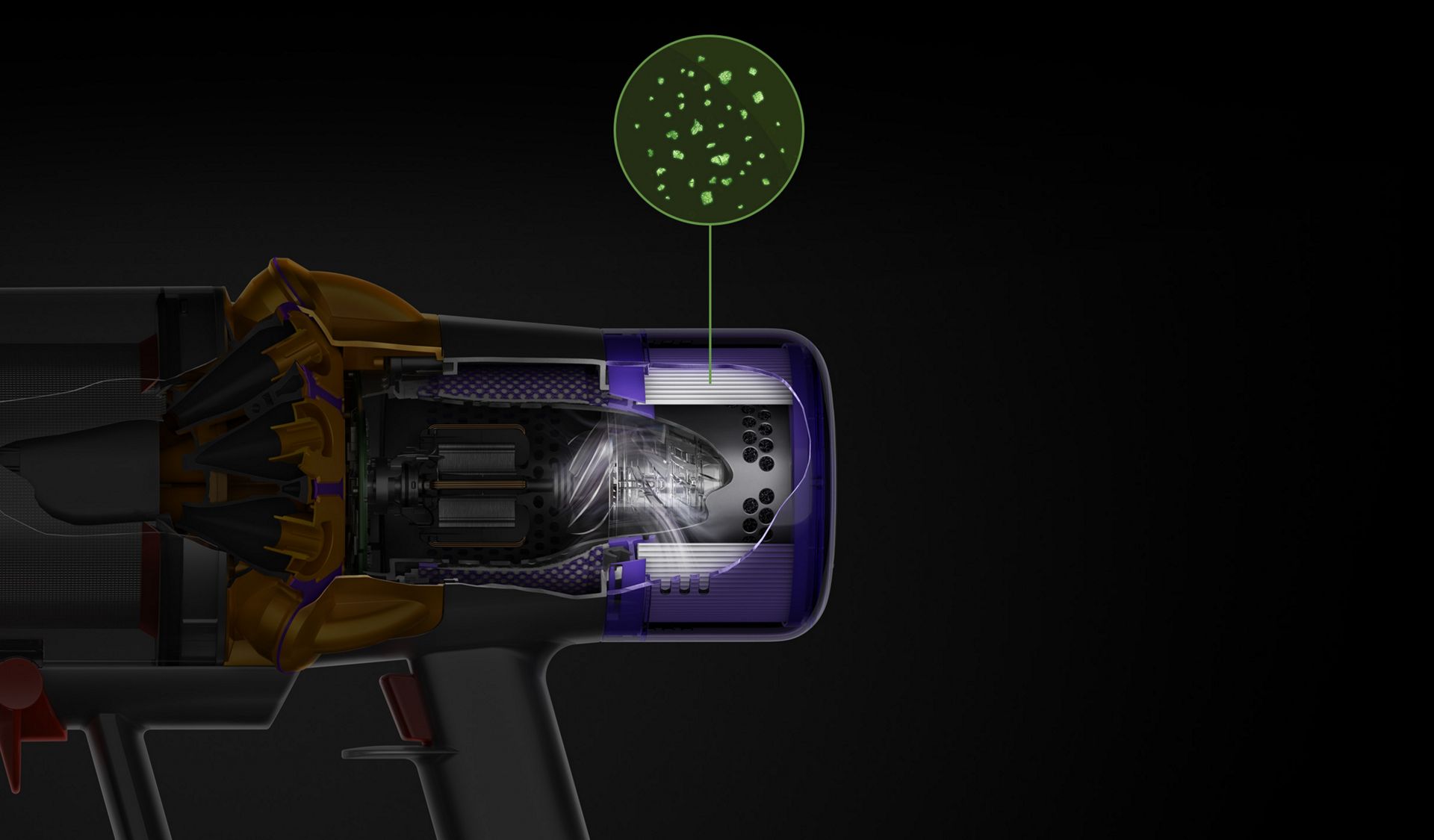 Helping to create a cleaner, more hygienic home
Additional features
Wall dock

The Dyson V15 Detect™ vacuum drops into the wall-mounted charging dock, ready for your next clean.

No-touch bin emptying

Hygienic ejection mechanism drives dust and debris deep into your bin, in one action.

Easy to maintain

The filter and Fluffy™ brush bar can be washed, and the bin and tools wiped clean, to remove dust build-up and help optimise your Dyson vacuum's performance.9

Click-in battery

Remove and replace at the press of a button for even longer cleans – and to charge on or off the machine.
Overview
Complimentary floor Dok™
Dyson's most powerful, intelligent cordless vacuum
Laser reveals microscopic dust
Includes 2 cleaner heads and 6 tools
240 AW of powerful suction
Complimentary floor Dok™ worth ₹9,900
Now with two-year complete accidental damage protection*
Own it at ₹2,621#/month only
Laser Slim Fluffy™ cleaner head

Laser reveals microscopic dust on hard floors. Soft nylon and anti-static carbon fiber filaments extract dust from hard floors.

Digital Motorbar™ Cleaner head

Powerfully sucks up dust and hair from all floors. De-tangling comb automatically clears hair from the brush bar.

Hair screw tool

Anti-tangle conical brush bar picks up long hair and pet hair. Fast. Motor-driven cleaning for small spaces.

Combination tool

Two tools in one - brush and wide nozzle. For simple switching between tasks.

Crevice tool

Engineered for precise cleaning around tricky edges and into hard-to-reach narrow spaces.

Mini soft dusting brush

With soft nylon bristles to clean delicate surfaces and fabrics

Stubborn dirt brush

Stiff nylon bristles dislodge stubborn dirt from floors and furniture

Wand Clip

Handily stores the Combination and Crevice tools on the wand of your vacuum. So they're always there when you need them.

Docking station

Wall-mounted dock to recharge your vacuum and tidily store tools.

Charger

Charges your vacuum with or without the Wall dock.

Get more from your Dyson with the MyDyson™ app

Get more from your Dyson with the MyDyson™ app
Expert guides and content

From quick-start and how-to guides to using your cleaner heads and attachments. All tailored to you and your machines.

Machine enhancements and upgrades

Reach further and clean deeper with specialist tools. And see how to upgrade to the latest software.

Tailored 24/7 support

Maintenance advice and troubleshooting, when you need it. You can also activate tailored machine support, direct to your inbox.
Choose your Dyson
Browse the Dyson V15 Detect™,
or explore all our cord-free vacuums.
1. Suction tested to IEC 62885-4 CL5.8 and CL5.9, tested at the flexible inlet, loaded to bin full, in Boost mode and compared to V11 and V12.
2. Laser engineered for hard floors. Effectiveness of laser influenced by ambient light conditions, debris type and surface.
3. Quantity and size of dust displayed on screen varies depending on usage. Examples shown may occur within one or more displayed size range.
4. Increase in suction power is only experienced in Auto mode when triggered by increased concentration of dust according to Dyson internal test method. Technology is optimised for Auto mode with a powered cleaner head. Particle size and densities vary.
5.Applies in eco mode on hardfloor. Actual run time will vary based on power mode, floor type and/or attachments used
6.Filtration tested against ASTM F1977-04, tested in Boost mode by independent third party, SGS – IBR Laboratories US in 2020.
7Dynamic Load Sensor technology only applies in Auto mode with the High Torque cleaner head attached.