Technology
Power up. Noise down.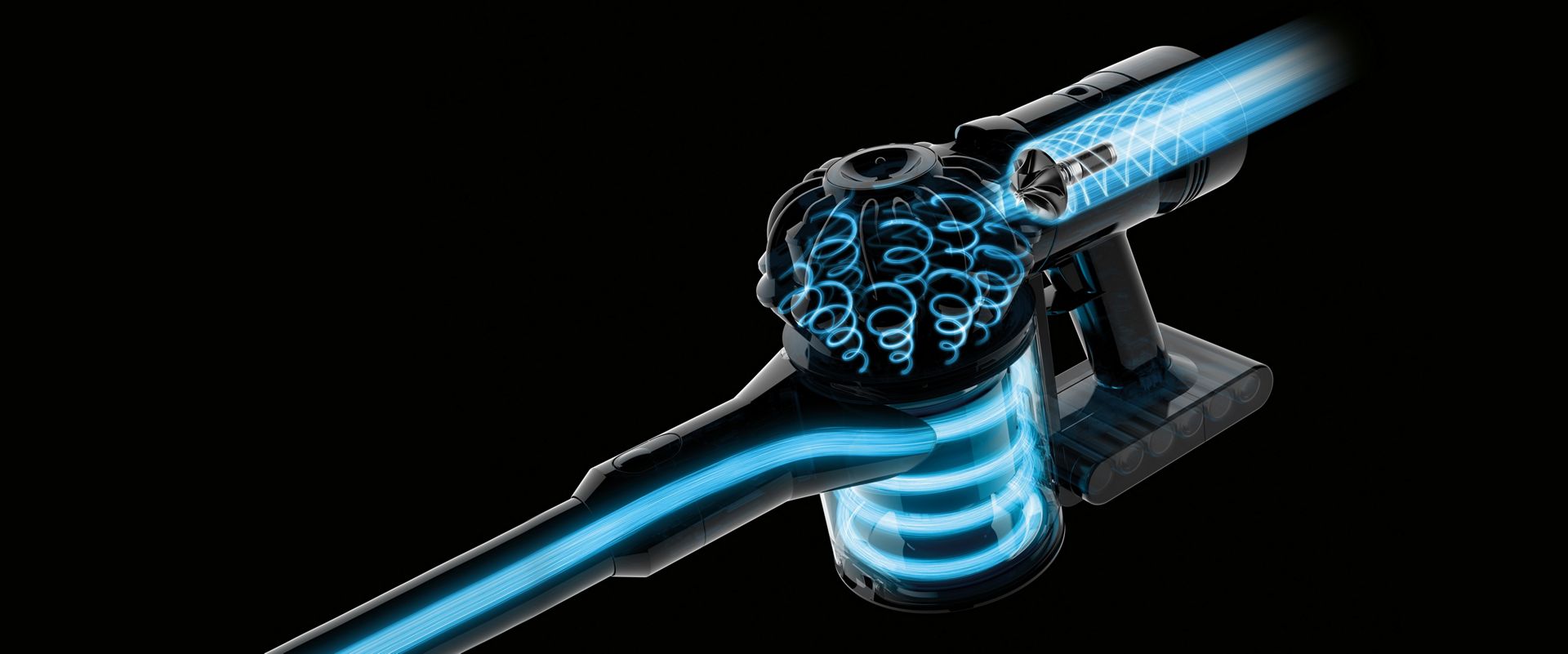 The Dyson digital motor V8.
The Dyson digital motor V8 spins at up to 110,000 rpm – five times faster than a Formula One car engine. Producing up to 115 Air Watts, it generates powerful suction.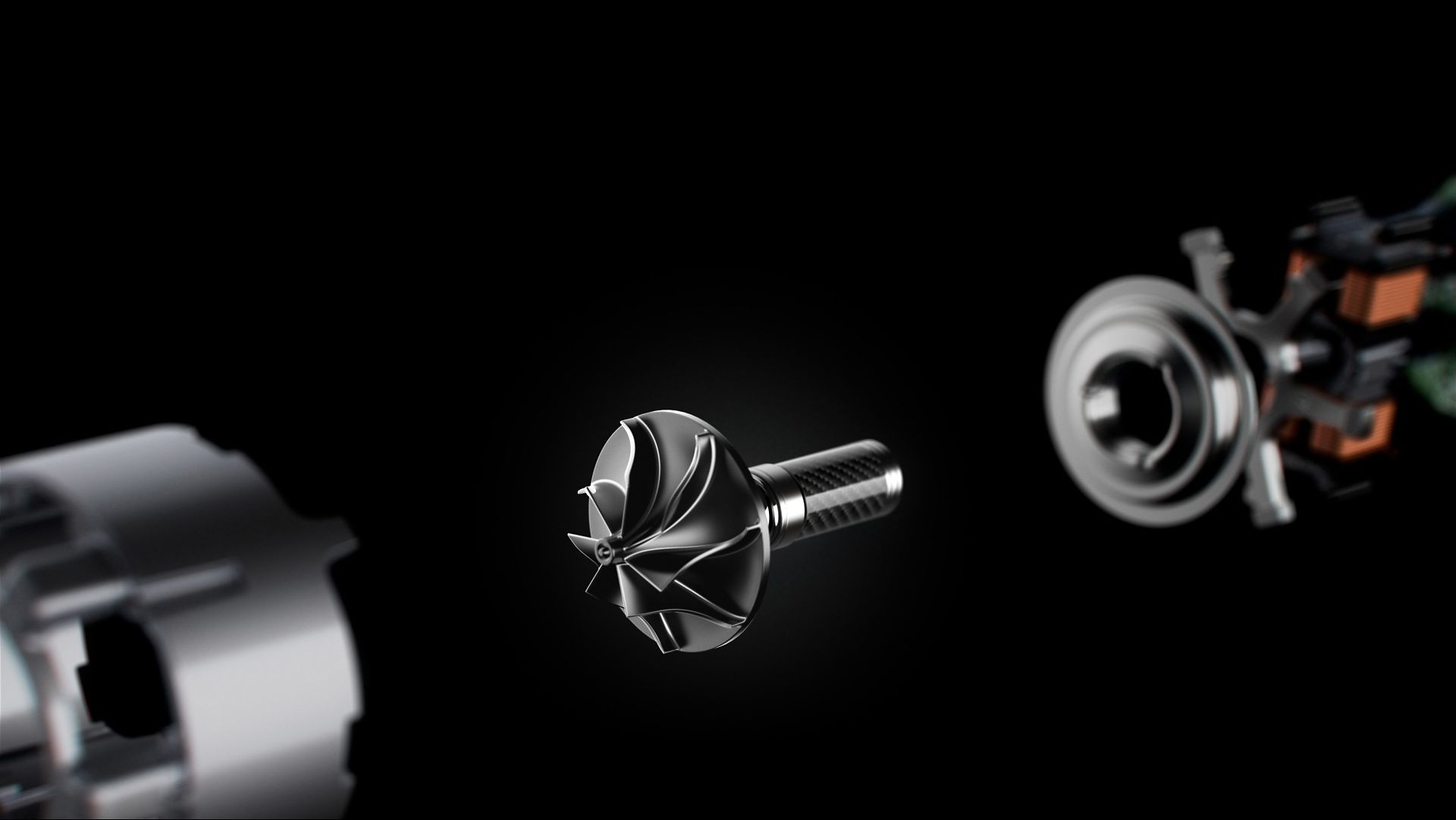 2 Tier Radial™ cyclones
15 small cyclones each generate powerful g-forces to fling dust into the bin. The post-motor filter is 1.5m of ePTFE porous membrane sandwiched between layers of PE/PET, folded 158 times to fit in a compact space. It's optimised to provide filtration with minimal pressure consumption, for more suction. So it captures microscopic dirt particles as small as 0.3 microns – almost 100 times smaller than the width of a human hair.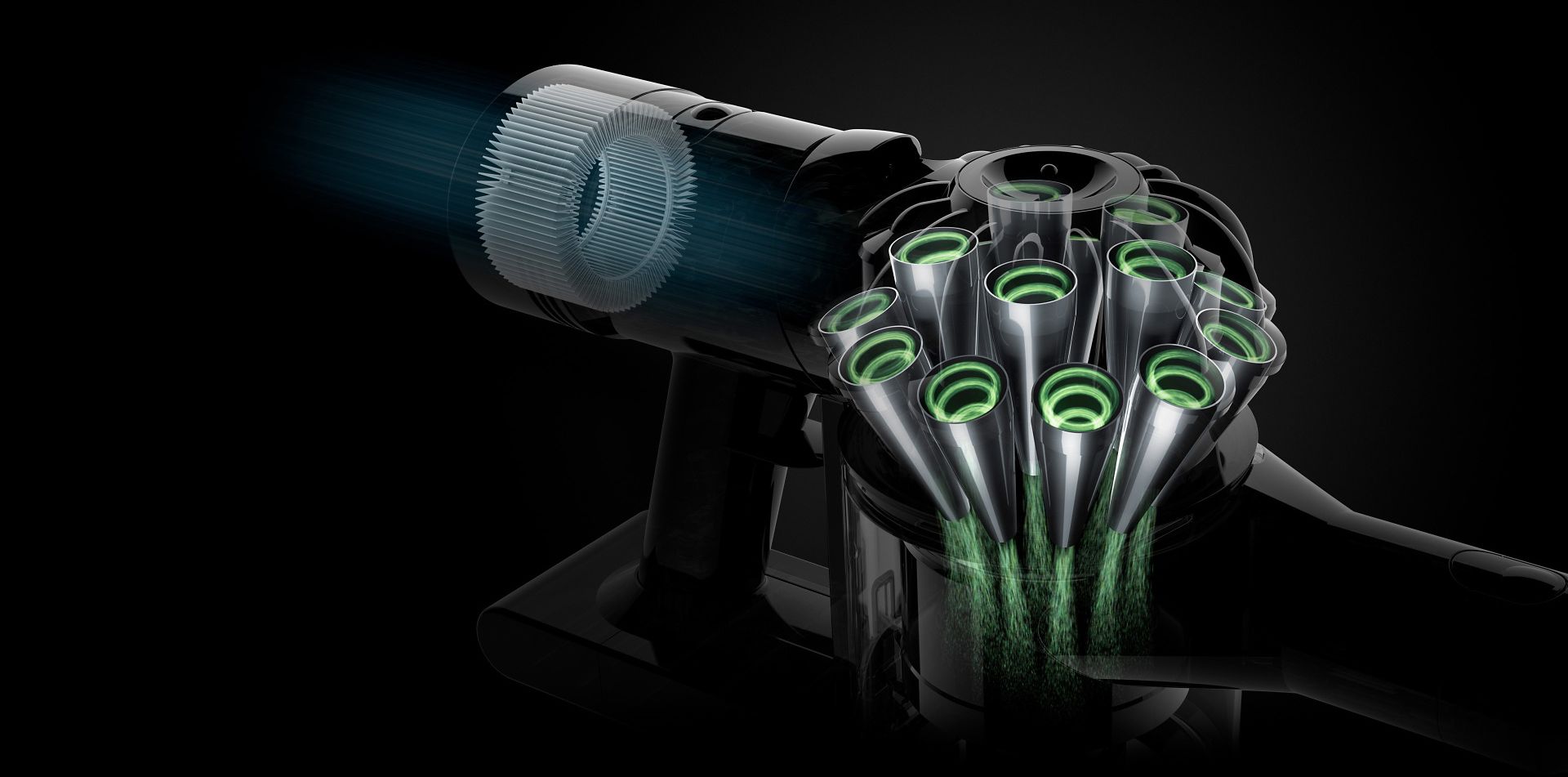 Redesigned battery chemistry.
The six-cell lithium-ion battery has been engineered with nickel-cobalt-aluminium (NCA) chemistry. The NCA cathode offers high power capability, with the ability to store a high charge per unit volume and to discharge this energy quickly. Which gives the Dyson V8™ vacuum up to 40 minutes of fade-free power.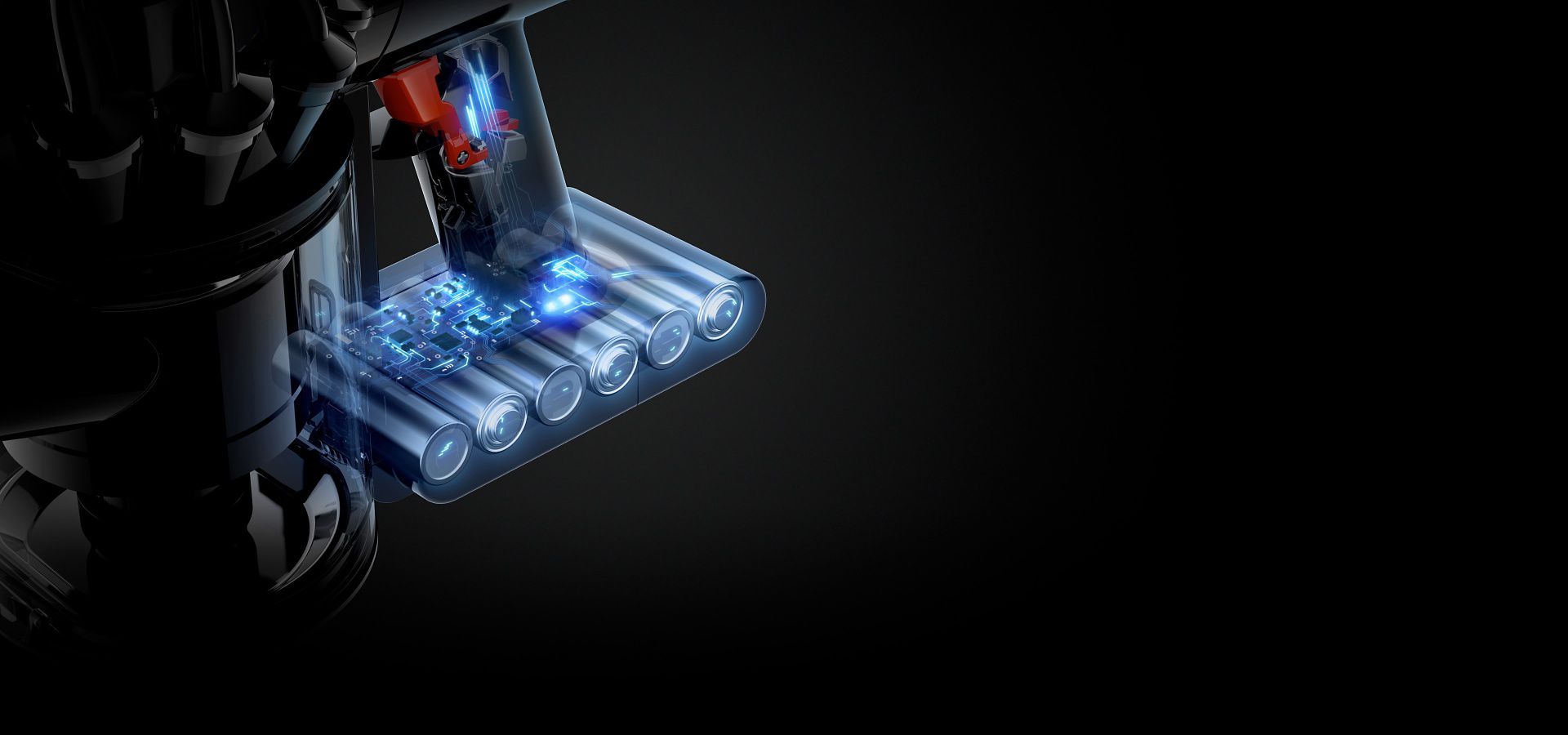 Acoustic control.
Streamlined airways and open-cell foam direct airflow around the motor to reduce noisy turbulence. A converging fluted funnel on the back of the motor reduces noise further, along with an acoustic baffle that blocks the line of sight to the sound source, and acoustic felt and closed-cell foam that absorbs vibrations.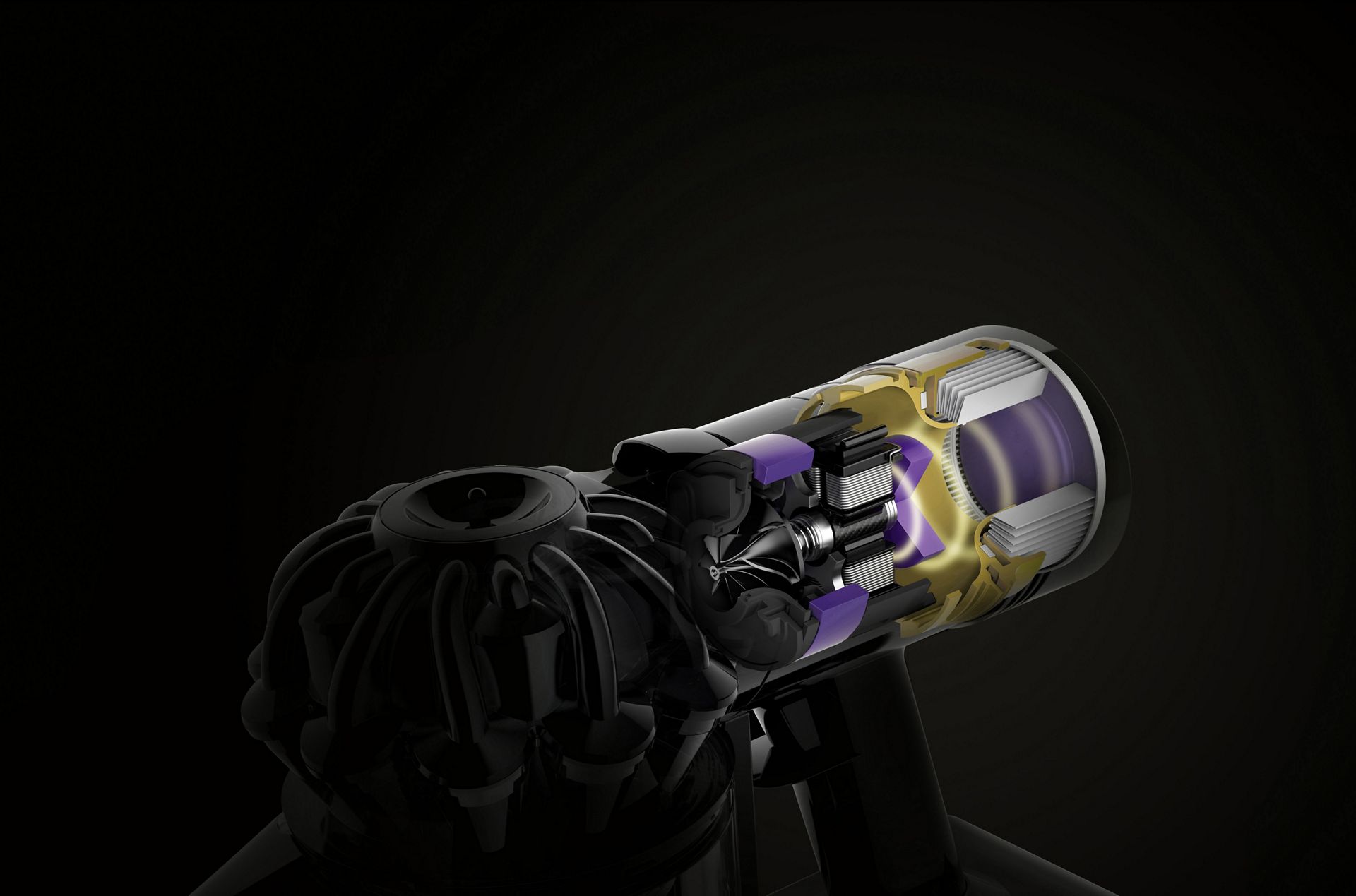 425

Watts of power generated by the Dyson digital motor V8

2,600

Grams total weight for easy, whole-home cleaning

99.97%

Full machine filtration removes 99.97% of dust particles of up to 0.3 microns
Exclusive offer + Complimentary gift
Powerful suction for whole-home cleaning
Up to 40 minutes of runtime
Powerful suction on carpets and floors
2 cleaner heads, 7 accessories included
Save up to ₹21,900*
Get complimentary cleaning kit
Own it at ₹1,329#/month only
Complete cleaning kit (free)

Up-top adaptor, Flexi crevice tool and Mattress tool on purchase

Soft Roller Cleaner Head

Engineered with soft woven nylon and anti-static carbon fiber, for hard floors

Direct drive cleaner head

Stiff nylon bristles remove ground-in dirt from carpets

Mini motorized tool

Motorized brush tackles hair and ground-in dirt, in tight spaces

Combination tool

Two tools in one, for versatile cleaning around the home

Crevice tool

Designed for precise cleaning around edges and narrow gaps

Mini soft dusting brush

With soft nylon bristles to clean delicate surfaces and fabrics

Stubborn dirt brush

Stiff nylon bristles dislodge stubborn dirt from floors and furniture

Charger

Charges your vacuum with or without the Docking station

Docking station

Wall-mounted dock to recharge your vacuum and tidily store tools
Buy direct from the people who made it
Made in Malaysia
1Tested at the hose/wand against cordless vacuums, with dust loaded to the EN60312-1, clause 5.8 and 5.9. Tested in MAX mode. Aug 2017.
*Stated run time applies to powerful suction mode with non-motorised tool attached.