Support for your Dyson Airwrap™ styler
Here you can find video styling guides, helpful tips, your user manual and more.

Activate your warranty
You can get support that's tailored to you, owner exclusives and more when you register your styler.
Getting started
Once you're used to the technique, styling with Coanda air is easy. You can watch how to do it in our video guide.
Six steps to curl retention
1. Start with damp-to-touch, towel-dried hair.

2. Use the 30mm or 40mm Airwrap™ barrel.

3. Use high heat and airflow.

4. Hold for 15 seconds, or until hair is completely dry before you turn the machine off.

5. Set curl with the cold shot for 5-10 seconds.

6. Add styling product such as hairspray to maximize curl longevity.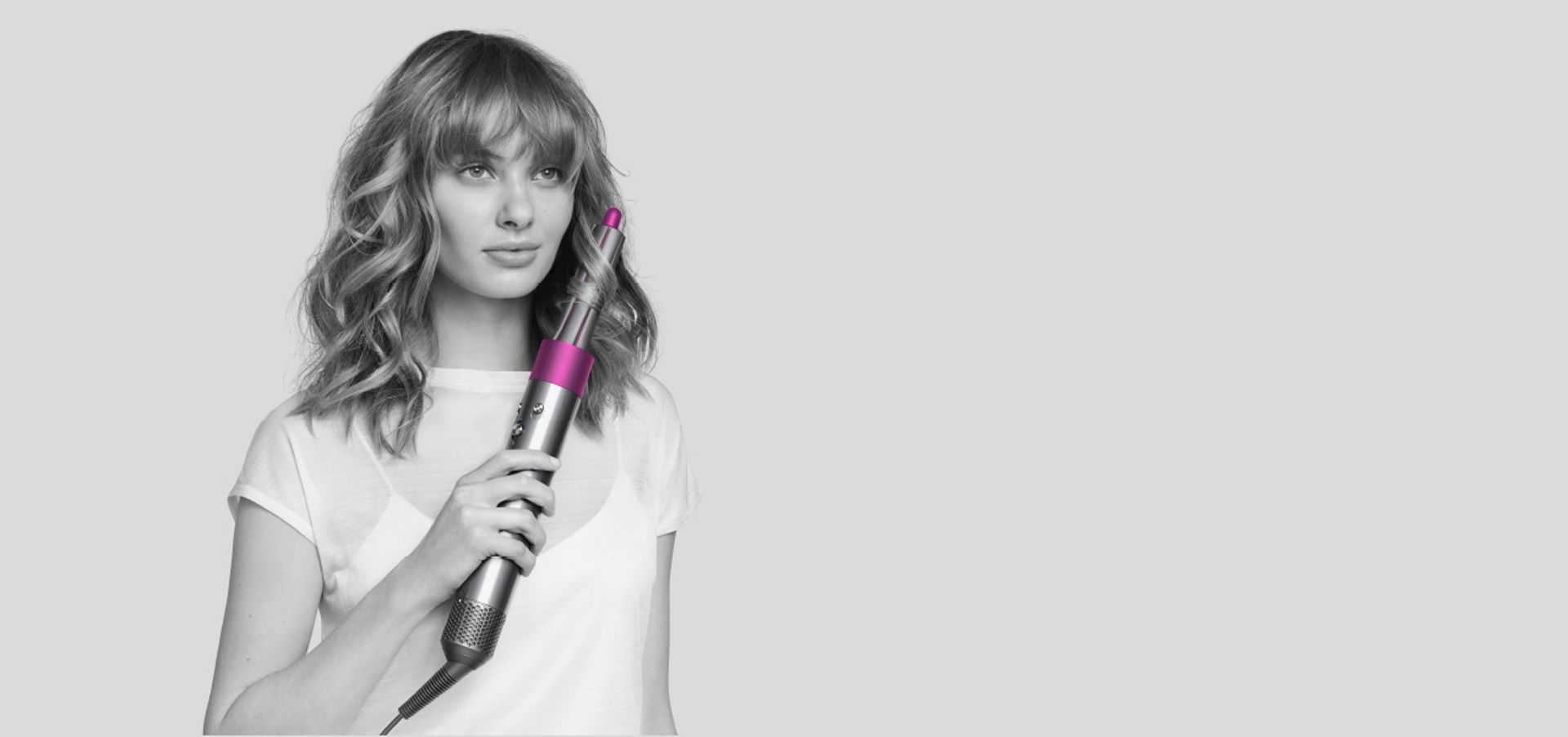 Using your attachments
We've engineered a range of attachments for your Dyson Airwrap™ styler, giving you the best results for different hair types and lengths. See how to achieve your perfect look, with the step-by-step styling guides below.
Curl and wave
See how to create perfect curls and waves, with barrels engineered for your hair type and style.
Voluminous curls

Create soft, voluminous curls or waves in longer hair.

Wavy bob

Add body and texture to your bob. Learn how to create soft, loose curls and waves in short to medium-length hair.

Casual, soft curls

Create soft, voluminous curls or waves in longer hair.
Smooth and volumise
See how to achieve a smoother style or create more body, with specialised brushes for different hair.
Smooth and straight

How to create a smooth, elegant style – from roots to tips. For coarser hair.

Textured volume

How to shape and lift your hair for textured, natural-looking body.

Silky and straight

How to create smooth, silky hair with a soft appearance. For fine hair.
Add to your styling set
If you'd like to add to your styling set, explore our range of Dyson Airwrap™ styler attachments.

Your accessories and attachments are engineered to last. But if you do ever have any questions about them, you can get in touch with a Dyson Expert on live chat. Or call 1-800-258-6688.
"To discover new styles and perfect your technique, follow @DysonHair on Instagram"

Follow @DysonHair
Maintaining your styler
We recommend carrying out regular maintenance on your styler, to stop hair products and dust blocking the airflow. This keeps it working at its best, and it's quick and easy.
Cleaning your attachments

Simply wipe the surfaces of your barrels and Pre-styling dryer with a soft, damp cloth, and carefully pull any hairs out of brushes.

Cleaning your filter

The flashing white LED tells you when it's time to clean your filter. Watch how to do it in our video guide.
Expert advice at Dyson Demo Store
Our Dyson Experts are on hand to answer any questions, and show you how to get the most from your Dyson Airwrap™ styler. You can also book a complimentary appointment to have your hair styled.

Frequently asked questions
Not everyone has the same hair type, or wants the same style. So we've designed different attachments to work for different hair types and create different styles. We've created two styling sets with attachments for specific hair types, and a set with attachments for multiple users or styles.
The long barrels are specially designed for hair that's longer than collarbone length. For long hair that's shorter than collarbone length, we recommend using the shorter 30mm Airwrap™ barrels and 40mm Airwrap™ barrels. Both the long and shorter barrels can work on long hair that's above or below the collarbone, but you'll get the best results if you use the recommended barrel for your hair length.
Yes. All of our attachments are fully compatible with every Dyson Airwrap™ styler.
Each pair of barrels has one clockwise and one anti-clockwise barrel, to create symmetrical curls and waves.
The white LED on your styler will start to flash when it's time to clean your filter. Over time, hair products, dust and lint can clog the filter – restricting the airflow and preventing your styler from performing at its best. So it's important to clean it when you're prompted to.
Your styler has been precisely engineered for styling at the voltage of the country in which it was purchased. This allows it to run at optimum performance. As voltage varies from country to country, please follow the guidance on usage in the guarantee section of your user manual, which can be found here.
Yes. For best results, start with freshly washed hair. All our brushes can be used on wet hair, but the barrels work best on damp hair. Use the Pre-styling dryer to dry hair to damp before styling with the barrels.
We don't recommend using the styler on dry hair because the style will not last. You can use a water spray to dampen hair if you don't feel like washing it.
The Dyson guarantee
'How to' videos

To help you get the most from your machine. Quick and easy.

Helpful tips

Tailored reminders that will keep your machine working at its best, for longer.

Exclusive owner benefits

Priority access to previews of new Dyson technology, events and offers.

Expert advice. 7 days a week.

Freephone and live chat. Open 8am - 8pm Monday to Friday, 8am - 6pm Saturday and Sunday.

Free Dyson parts and labour

Replacement parts or repairs if something goes wrong during your warranty period.

Hassle-free replacement

If we can't repair your machine, we'll replace it while it's under warranty. Fast.
We don't stop caring about our machines once they're yours. Activating your warranty allows us to give you a tailored, complementary, direct service for your machine. Even after your warranty has ended, we'll still be on hand to help.