Fast and hygienic hand dryer, with a HEPA filter as standard
Dyson continues to support all owners with Dyson Airblade dB units for the duration of the machines' 5-year warranty. If you are an existing dB owner and require customer support, please email ask@dyson.in

Unfortunately, this machine has been discontinued but we have some great alternatives.
Proven hygienic by independent testing
All Dyson Airblade™ hand dryers undergo rigorous testing by Dyson. The impact of drying hands has been tested in universities and published in international journals.

Dry hands in just 10 seconds1
Airblade™ technology forces sheets of air through apertures at 690 km/h, literally scraping water from hands, quickly and hygienically.


Scrapes away water at 690 km/h
The Dyson digital motor V4 uses digital pulse technology to spin at up to 90,000rpm – up to three times faster than a conventional motor. So it can draw up to 30 litres of air per second through the machine.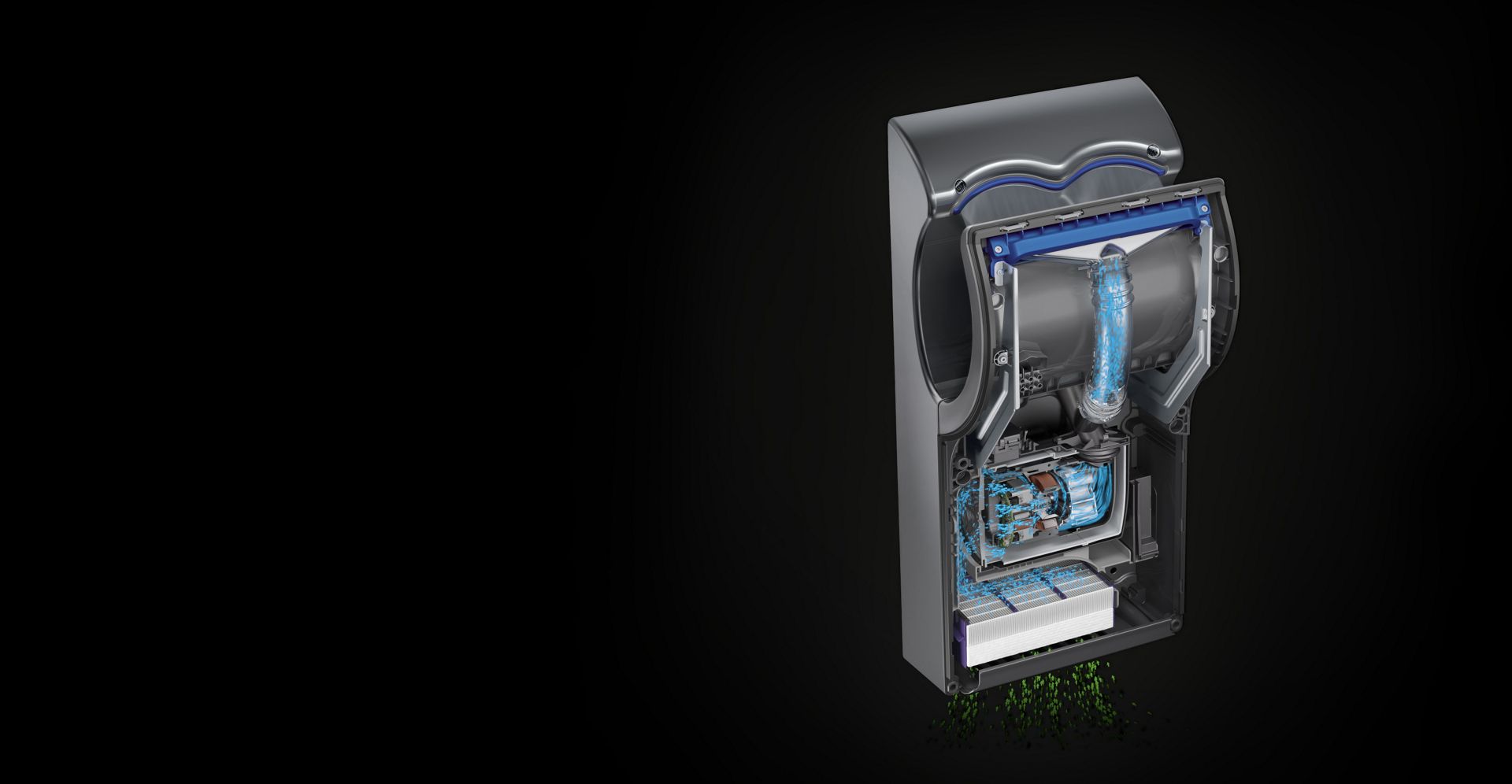 Key technology
The Dyson digital motor V4

The reprogrammed Dyson digital motor V4 uses digital pulse technology to draw up to 30 litres of air per second through the machine, for fast hand drying.

HEPA filter

The Dyson Airblade™ hand dryer's HEPA filter captures 99.95% of particles2 as small as 0.1 microns, from the washroom air. So hands are dried with cleaner air. Antibacterial coating and touch-free operation helps to prevent the spread of bacteria. So Dyson Airblade™ hand dryers meet every part of NSF Protocol P335, which defines the criteria for hygienic hand dryers.
Additional features
Engineered to last

Made from tough, durable ABS polycarbonate, Dyson Airblade™ hand dryers are repeatedly tested for durability and resilience to physical abuse.

Less waste

Up to 78% less CO23 to run than single-use paper towels. Creating a better environment in your washrooms and in the world outside.
Accreditations
NSF

The only hand dryer certified by the NSF International Protocol P335.

HACCP

The only hand dryer certified for use in food preparation environments, by the HACCP International standards.

Carbon Trust

All Dyson Airblade™ hand dryers are certified by the Carbon Trust.
Specifications
Motor switching rate
6,000 per second

---

Airspeed at apertures
690km/h

---

Motor speed
90,000 rpm

---

Operating airflow
30 l/s

---

Decibel level
84 dB

---

Weight
8.2kg

---

Casting construction
Polycarbonate-ABS casing

---

HEPA filter
Yes

---

Rated power
1,600 W

---

Operation lock-out period
30 sec

---

Standby power consumption
Less than 0.5 W

---

Input voltage
200-240

---

Frequency
50 & 60 hz

---

Height
661mm

---

Length
247mm

---

Width
303mm

---

Antibacterial coating type
Moulded additive

---

Dry time
10 seconds

---

Motor
Dyson Digital V4

---
Frequently asked questions
To ensure the machine performs to its best and remains hygienic, the Dyson Airblade™ dB should be cleaned daily. Please refer to the cleaning guide for further information (see above).
There is no limit, however we recommend each machine has its own fused spur that it is connected to.
They are single insulated.
1Dry time determined using Dyson test method 769 based on NSF P335 to a measurement of 0.1g residual moisture.
2HEPA filter tested to EN1822-5, by an independent testing laboratory, under prescribed test conditions.
3The environmental impact of electrical appliances and paper towels was measured by Carbon Trust. The calculations were produced using the software Footprint Expert Pro, based on product use over 5 years and using weighted averages of individual countries of use. Dry times for product were evaluated using DTM 769.