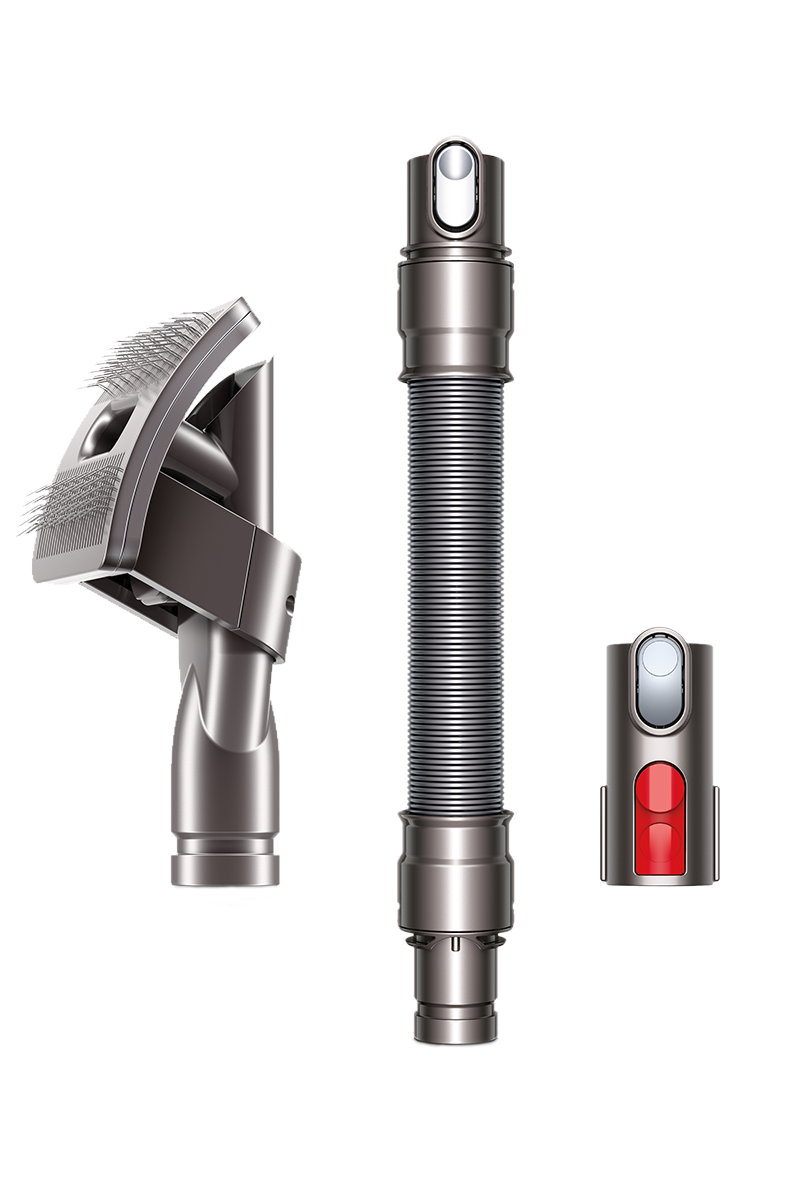 Pet grooming kit
Dyson-engineered accessories to groom medium and long haired pets.
Captures loose hair as you brush your pet. Flexible bristles self-clean in an instant. For medium and long haired pets.
Kit includes pet groom tool, extension hose and quick-release adaptor.
Pet groom tool
Captures loose hair and dander as you brush your pet. Flexible bristles self-clean in an instant.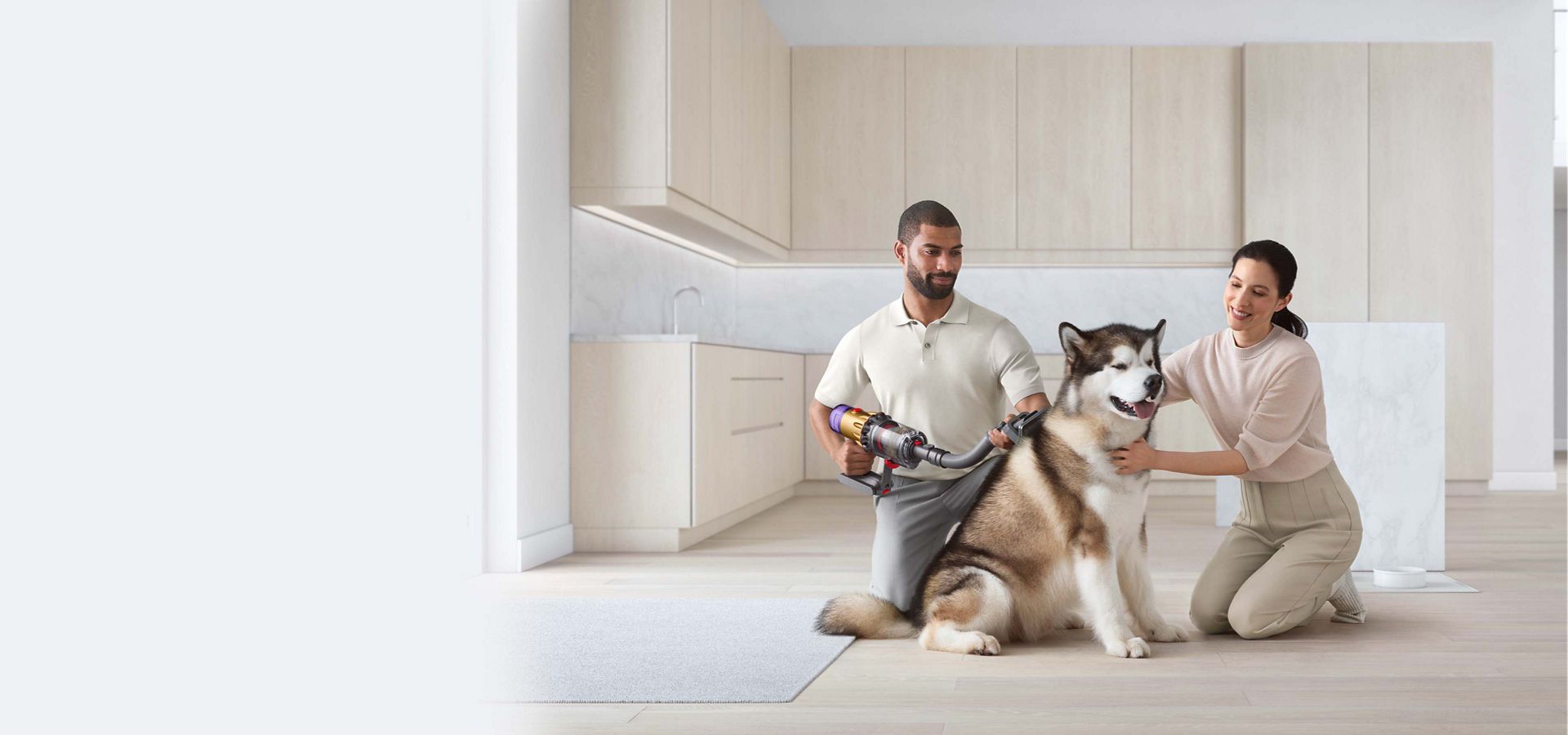 Groom. Suck. Gone.
Sound engineering

Dyson's Pet groom tool is acoustically engineered to keep things more peaceful for your pet.

For medium and long haired pets

You can use the Pet groom tool on any pets you already groom using a standard slicker brush.

Self-cleaning

Release your thumb to retract the bristles. The vacuum sucks tangled hair straight into the bin.

Angled bristles

364 slicker bristles angled at 35° flex to an upright position as you brush, penetrating deep to grab loose hairs.
Extension hose for comfortable grooming
With a quick-release adaptor to add up to 100cm of flexible reach to your Dyson cordless vacuum.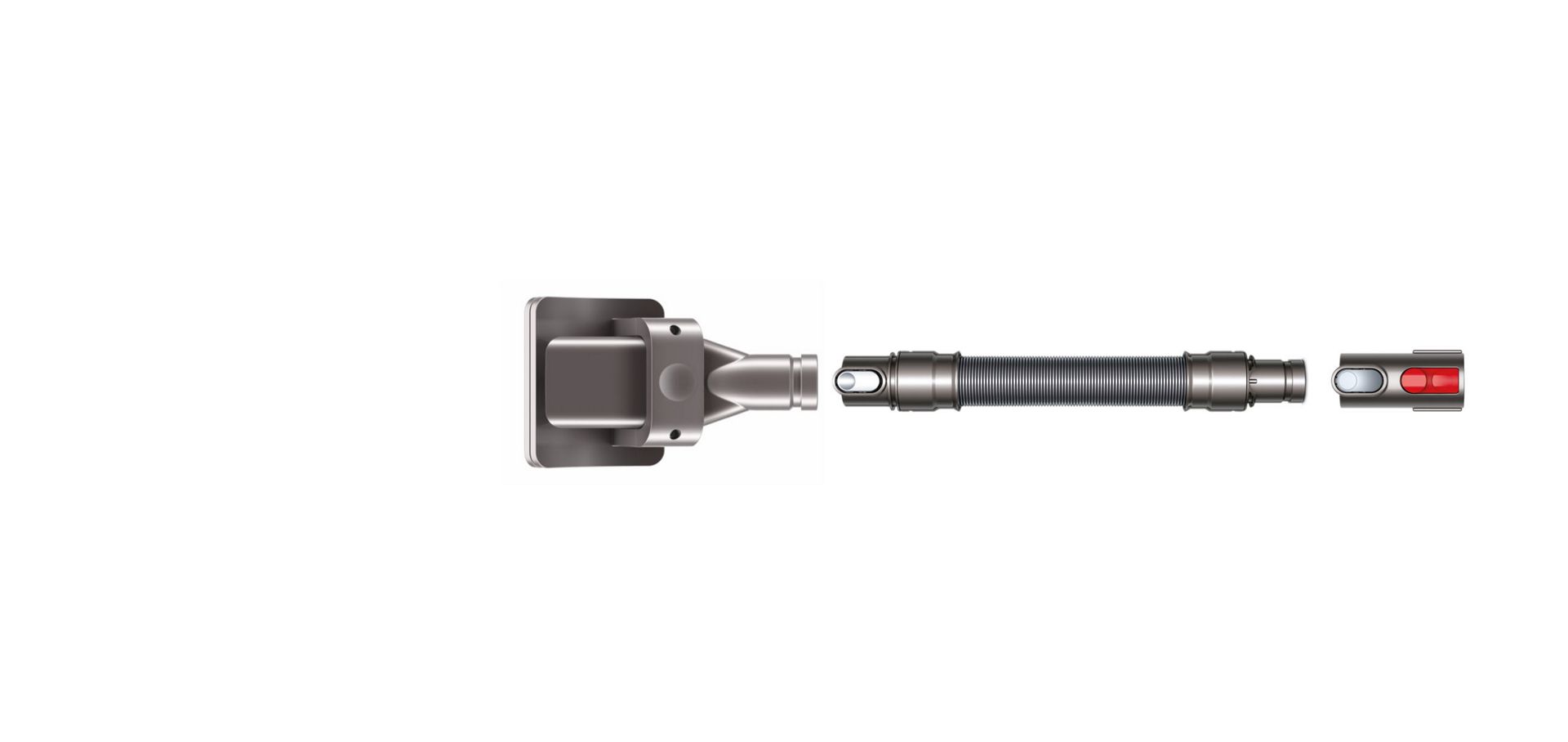 Compatible machines
Dyson V15 Detect™ vacuums

Dyson V12 Detect Slim™ vacuums

Dyson Cyclone V10™ vacuums
Frequently asked questions
Homes with pets need to be vacuumed more frequently. Pet paws tread dirt from outside. And pet hair and pet dander drop wherever your pet roams at home. Dyson recommends vacuuming your floors, pet beds and upholstery one to four times per week. More often, if you have many pets.
Dyson vacuums are engineered to capture and contain household dirt and pet hair – even the microscopic pet dander you can't see. Available across Dyson's range of cordless vacuums, our latest de-tangling Motorbar™ cleaner heads are engineered to suck up pet hair. And hair removal vanes automatically clear wrapped hair from the brush bar as you clean. Also available with Dyson V15™, V12 Detect Slim™, Cyclone V10™ and V8 Slim™ vacuums, the Hair screw tool has a de-tangling brush bar that quickly removes hair from pet beds, car seats, sofas and stairs.
Dyson's researchers study how dust particles transfer between surfaces. Helping to pioneer technology that deep cleans fine dust and allergens such as pet dander. Tested and engineered for homes with pets, the Dyson Outsize™ vacuum creates powerful suction that drives deep to remove dirt and pet hair from carpets and rugs. Featuring Dyson's most advanced filtration in a cordless vacuum, the Dyson V15 Detect™ vacuum has a HEPA post-motor filter that traps particles as small as 0.1 micron – smaller than pet dander. Helping to maintain more hygienic living spaces.
For spot cleaning wherever your pets get, Dyson's Hair screw tool has a de-tangling conical brush bar that quickly takes care of long hair and pet hair left on pet beds, car seats, sofas and stairs. The Hair screw tool is engineered for Dyson cordless vacuums.